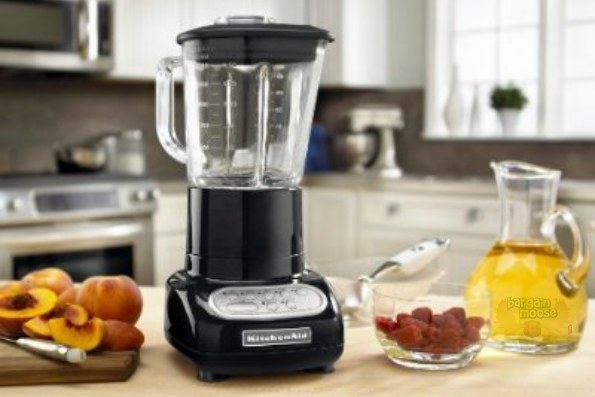 If you want a good blender get this KitchenAid KSB565OB 5-Speed Blender with Glass Jar for $119.99, regularly $199.99. You save $80 = 40%! The only colour on sale is Onyx Black, which is a good colour I think. Enjoy free shipping with this product from Amazon.
The main thing I like about this blender is that it is 5-speed and it has a glass pitcher. For some reason so many blenders these days are coming with some sort of plastic pitcher that makes me very nervous when crushing ice! I have a KitchenAid blender with a glass jar (not this model) and I enjoy it. crushing ice is a breeze!
Here are a few reviews to wetting your appetite:
... It blends fine, seems powerful enough and is fairly quite. We use it daily for smoothies and it will crush ice and frozen fruit without a problem. It cleans easily and over all seems like a decent machine. Time will tell on how durable it is but the construction looks solid...

At first I was going to buy the polycarbonate version of this blender, for the larger jar, as well as its greater popularity. I'm glad I changed my mind and bought this glass one. It is very easy to clean, has no leaks, looks great, and is powerful enough for crushing ice and frozen fruit. The advantages of having the glass one as opposed to the polycarbonate one outweigh the disadvantages (slightly smaller jar).
I totally agree, mine is a breeze to clean and I love the measuring cup in the lid.