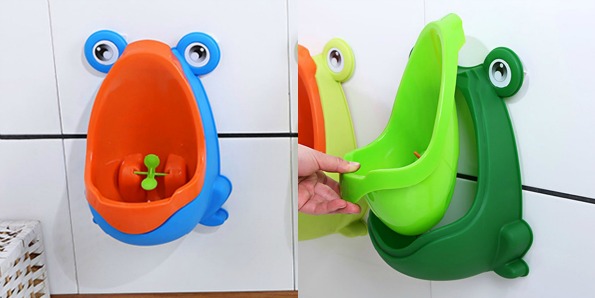 *** UPDATE: We are bumping this item as it has had another little price drop since we last wrote about it! ***
I am a mom of three boys, all who have been potty trained, but I can definitely tell you that I have sat in urine on the toilet seat way too many times in my life. I found a fantastic product for potty training, although I do wish it had its own plumbing! The frog easy wash toilet training plastic urinal was $25.99 and is now $15.99 $14.99.
This potty will teach your child to aim and fire and they'll actually want to because it has a very cute little windmill that will spin when the stream hits it! I seriously think I need this for my older boys, but I will let that go and talk about potty training, one of the most hated tasks by parents around the world. If this potty makes it just a little bit easier, I'm in for that.
The frog urinal is sold by a secondary seller on Amazon, who is offering completely free shipping. I am not sure where they ship from but it looks like it could be China. Reviews of the seller say that the shipping was a lot faster than they expected.
There are three colours - the green, which I think would appeal to the kids, coffee, which is the most neutral for your decor and blue and orange, which is also pretty fun. All of them are on sale for $15.
There is a suction mechanism on the back to stick the urinal to the wall and is said to be strong. You can position it exactly where your child needs it and move it around if you find it too high or low once you've started potty training. Once they go, you simply lift out a removable inside piece and dump the urine.
I couldn't find this bad boy anywhere else online, although I did find other urinals, which definitely weren't this cheap or this cute either.
(Expiry: Unknown)