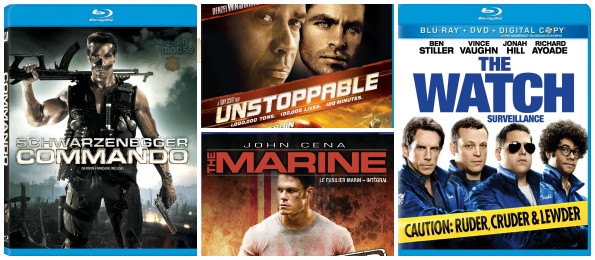 Amazon Canada is offering an extra $8 off your purchase of three select Blu-Ray Movies. As movies in this category start at $4.88, you can technically buy three different movies for just $6.76. There are plenty of other movies in this sale but I picked out the three cheapest movies and threw them together - received the extra $8 off - and they only came to $6.76 together.
There are 72 movies that qualify for an extra $8 off your order when you purchase three of them. To receive the deal I advertised above, you would select three of the following four movies:
You pick the first two movies and then choose either Unstoppable with Denzel Washington or The Watch with Ben Stiller. This discount is automatically applied at the last stage of checkout: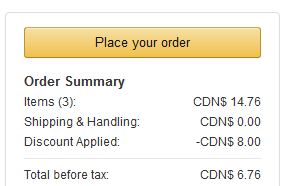 All you have to do is pay the tax rate - depending upon your province - on top of that price. If you are still holding on to that Prime membership from Amazon Prime day, then these movies will ship to your home free of charge. If not, then you can pay to have them shipped (not advised), sign up for a free Amazon Prime trial, or have these as part of an order over $25.
I really do not think you can get much better than this deal as the movies come out to approximately $2.25 each. Now, these are not your only movie choices, they are just the cheapest.
All four of the above movies are adult oriented, thus I decided to make a three-pack for children as this is the summer break. Epic (2013) was $32.99 and is now $7.96 for the Bilingual - Blu-ray + DVD + UltraViolet Copy. This movie actually looks pretty awesome. Second, Sandlot is the perfect entertainment for your boys. Originally $21.99, the movie is on sale for $7.96. Lastly, Rio is a fantastic movie about a bird getting in touch with himself - and reality - going from a pampered pet to a bird on the run in the wild. Originally $21.99, the movie is on sale for $7.96. Pick up all three movies for just $15.88 after additional $8 discount.
I am not sure how long this offer will last, so take advantage of it while you can. I highly recommend Amazon prime if you want free shipping. You can always cancel the trial!
(Expiry: Unknown)