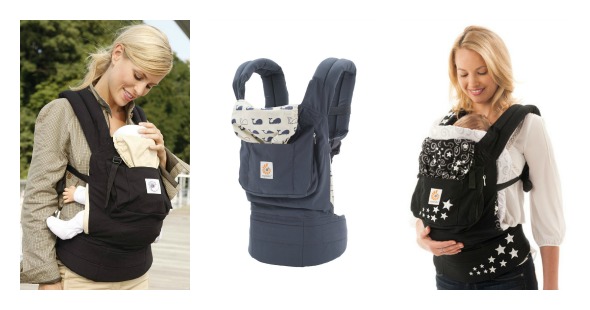 If you've got a little one or are expecting in the new year, you should check out this deal I just stumbled across at Amazon Canada. They have the Ergobaby Original Collection Carrier in a neutral black/camel colour scheme marked down by 28%. Regularly $125, it's selling for just $90 and your order will ship for free! Ergobaby is the first name in baby carriers and while you can sometimes find them on markdown as they come out with new designs, this is a really great price.
If you're looking for a bit more excitement as far as the fabric is concerned, Amazon.ca also has the slightly newer version Ergobaby Original Collection Night Sky pattern and marine pattern marked down by 33% to $100!
I didn't think much about carriers while I was pregnant but by the time my baby was three months old, I had 2 of them! They really are priceless, even around the house. Our little guy was slightly particular about sleep in that he refused to do so unless he was being held. So, I got a wrap-style carrier for his newborn stage and this exact Ergobaby Carrier once he was able to hold his head up. It gave me some time to get things done while he slept and it goes without saying that you want to keep that baby as close as possible for as long as possible because it all goes by SO fast. They're also incredibly handy for those with new babies and a toddler to chase after! If you've already had a baby, you may get a laugh out of some of the product shots. What? You didn't look that polished and put-together with a newborn?! But I digress.
While the wrap-style carrier was handy in the beginning, carriers like the Ergobaby are much more versatile. They're fully adjustable so both parents can wear it and they tend to hold babies that weigh more -- meaning they last longer. For instance, this particular one has a weight limit of 40 pounds! It's important to note that this doesn't appear to include the infant insert, so if you are planning to use it with a newborn (7-14 lbs.) you must purchase that separately. Amazon also has the inserts available for a few dollars less than most places, like this one in natural.
The Ergobaby is ergonomic (hence the name) and evenly balances weight between the wearers shoulders and hips. Of course, you'll want to follow the included instructions carefully to ensure baby is secure and properly positioned. Also important: the Ergobaby Carrier is specially designed to cradle your baby in a natural sitting position, aligning with the recommended carry position from the International Hip Dysplasia Institute. It's made of sturdy cotton canvas that you can just throw in the washing machine and features a large storage pocket for your keys and phone and a small pouch that also stores the sleeping hood.
The lowest price I was able to find elsewhere was $104.97 at Babies R Us and they're sold out. The prices go up from there -- $125 all the way to $170 at a couple of boutique-style places that don't offer free shipping!
If you've got a baby shower coming up, this would also make a great gift and will be endlessly appreciated by new parents. Grab this great deal from Amazon Canada while you can!
(Expires: Unknown)