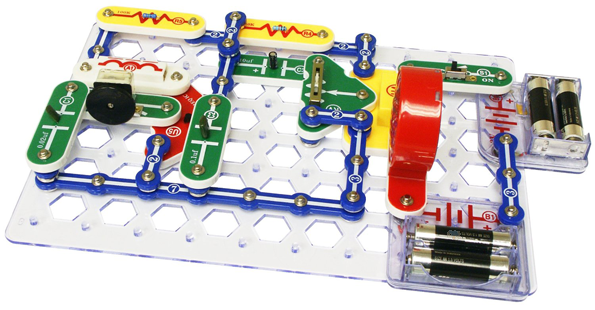 Are you all enjoying your Thanksgiving Sunday, Bargainmoosers? Well I've found a decent deal for an interesting product on Amazon, and I wanted to share it with all of you! You can now purchase this Elenco Snap Circuits SC-300 Electronic Science Kit for $41.43 - the regular price is $64.99, so you'd be saving $23.56. It also costs $74.95 at Mastermind Toys, and it's $64.62 at Genius Hack Toys. You'll also get free shipping with your order, which is always a nice bonus!
The Elenco Snap Circuits SC-300 Electronic Science Kit is a very educational toy for kids, but it can also be an interesting set for adults as well. You can work on up to 300 different projects with this kit, and set up FM radios, digital voice recorders, AM radios, burglar alarms, doorbells, and much more. It's a really cool set for those that love electronics.
I never had something like this to play with when I was a kid. It would have probably been quite daunting for me at the time, but I think I would have enjoyed playing around with an educational set like this Elenco Snap Circuits SC-300 Electronic Science Kit. There were products similar to this that were available when I was a young lad, but I remember them being quite expensive at the time (I do remember seeing a similar set for about $120 at Toys R Us back in 1993 - yes, I am the Rainman of remembering old toy and video game deals when I was a kid).
I've included a snippet of a review of this Elenco Snap Circuits SC-300 Electronic Science Kit from a satisfied Amazon customer below:
We hesitated before putting down money on this kit, not knowing if our Lego-loving boy (age 7 at the time) would take to it. Boy did he ever! This kit has REAL components that can be seen so that they are later recognized in an electronic lab; however, because they are mounted on plastic pieces that snap together, they are very easy to use. The book has easy-to-follow schematics... This is great for self-discovery of electronics - almost no adult assistance was needed.
This deal may not be around for very long, so check it out while you still can. Happy hunting, Bargainmoosers!
(Expiry: Unknown)