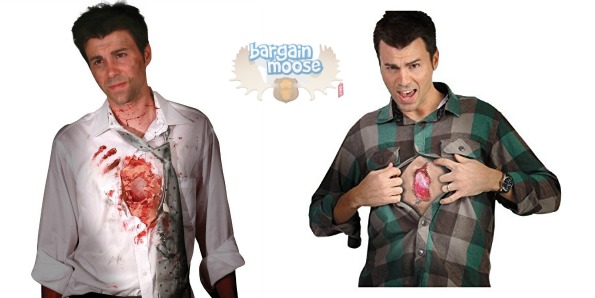 If you want to be the life of the party this Halloween (and I know you do), check out this totally awesome beating heart flesh wound that will have everyone giving you their full attention. Regularly $29.99, it is on sale at Amazon for $21.57 and is actually a beating heart that you can control.
I was originally going to tell you about the full zombie beating heart costume I found at Morphsuits Canada, until I saw that you could get just the best part - the beating heart - for much cheaper at Amazon. Amazon wins again! Basically you will attach this wound to your chest and place your mobile device into it. Using the iWound app, you'll play various videos on your phone that will show through the wound, looking like a realistic beating heart. There are also other gruesome videos that you can play as well like maggots coming out of the wound.
The reviews on Amazon are priceless, saying that people loved the costume and made lots of comments. But, the one thing I did see repeatedly was that it was a hard fit to put the phone into the accessory pouch.
I know a few guys who would love to wear this to the next Halloween party or even trick or treating with the kids. If you bought this item at Morphsuits Canada, it would actually cost you more than the regular price at Amazon, and you'll pay $32.99.
If you'd like to have a zipper effect, Amazon also has that one as well, but it is on sale for $25.91, but still cheaper than you'd get it at Morphsuits.
The first shirt is just under the $25 minimum for free shipping, so you might want to add some other cheap Halloween items to your cart to get you over. The second shirt will ship for free.
(Expiry: Unknown)