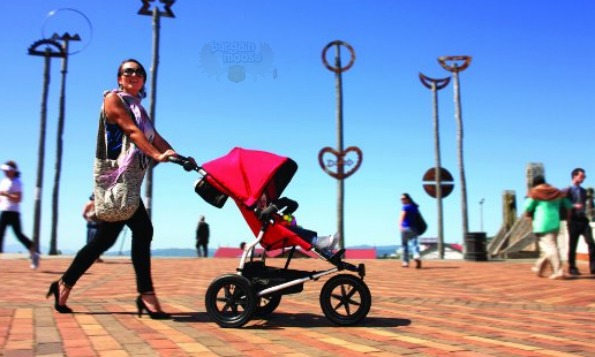 If you have a little one or maybe a bundle of joy on the way, you will want to check out this new coupon code from Amazon Canada. Purchase a Phil & Ted's mountain edition stroller, and you will get a Phil & Ted's bassinet for free!
Click here to get this deal @ Amazon.ca now
Coupon Code: PATBUGGYC
Discount: Free Bassinet
Expiry: Unknown
Phil & Ted's are one of the best brand names out there when it comes to strollers and accessories.  I was dying to have one when I was pregnant after I had done some research, but it just wasn't in the cards for us at the time. They are durable, lightweight, very well made and easy to use.
Not only will you save with the coupon code, the stroller is actually already on sale right now.  The regular price is $549.99 and it is on sale for $531.94.  To take advantage of this deal, you will need to add both the stroller and the buggy (from the link above) to your cart first.  Then enter the coupon code and the price for the buggy bassinet will end up being free.  Without this coupon, you would be spending the regular price of $186.99 to purchase the buggy bassinet.
I love the look of the buggy bassinet on a stroller for when your baby is just little.  It turns your stroller into a beautiful pram easily, which is also very trendy and stylish right now. Another bonus to it is that with a bassinet, you can get out and about without disturbing your baby's sleep. For anyone that has kids, you know what a huge deal this can be!
I wanted to make sure this was a great deal so I did some price comparisons.  This stroller was at Toys R Us for $499.99 but you would need to pay $33 for the cost of shipping and you would not be getting the buggy bassinet with it. At the actual Phil & Ted's store, it was also $499.99 but again, the shipping was extra at a price of $20 and you would not be getting the buggy bassinet.  In all, the deal at Amazon which includes the free shipping and the Bassinet worth $186.99 was the best deal by far.
As a nice little bonus, both of these items will get free shipping as well. Most stores would be charging you an arm and a leg for the cost of shipping because of the size of these two products.
This Amazon Canada coupon, along with a few others can be found posted on the Bargainmoose coupon forum.