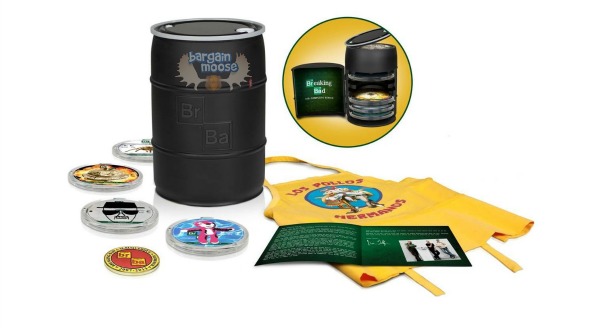 If you have tears in your beer because Breaking Bad is over, I share your pain; however, it doesn't really have to be over. You can watch it all again. Pre-order the complete series on blu-ray at Amazon, and get it for only $209.99, was $250.99. I couldn't find this show for pre-order anywhere else, and I'm going to say although this price seems high, it is already a bestseller on Amazon's list. The price could possibly go up after release. Also, if the price goes down before release, you'll get the lower price.
If you have never seen Breaking Bad, you have truly missed out on one of the greatest shows I've ever watched. You almost have to order this set just to make up for missing it, while you could have watched it on television. Easy synopsis: a high school chemistry teacher is diagnosed with lung cancer and realizes he has no money to leave his family, so he starts making meth. The twists, turns, rushes and anxiety of this show will leave you breathless on many an occasion. In your wildest dreams, you couldn't imagine where this show would end up.
I think this set would make an amazing gift under the Christmas tree for the Breaking Bad lover or someone who hasn't seen the show. It has some fun features, too. It comes in a collectible replica money barrel, a 16-page booklet with letter from Vince Gilligan (the creator), a commemorative challenge coin designed by Vince Gilligan,  and a Los Pollos Hermanos apron (you'll have to watch to find out what that is about). You won't just get the full series, you'll also get over 55 hours of special features from all seasons and an all-new two hour documentary.
Shipping is free.
(Expiry: 26th November 2013)