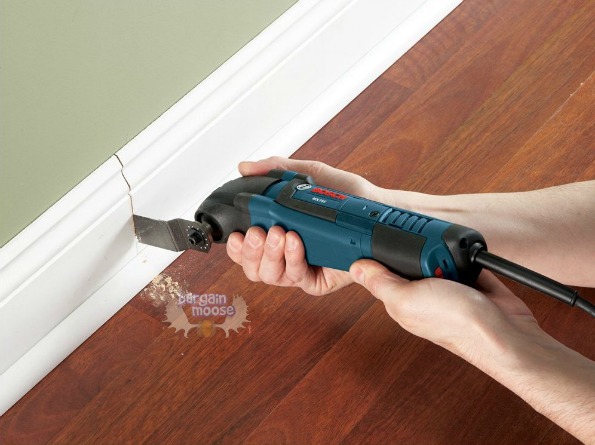 If you or someone you know (Dad?) requires the use of the very handy oscillating tool, Amazon has a great deal on the Bosch 2.5-amp multi-x oscillating tool kit. It is now only $124.99, with a regular listed price of $367.11. This regular price seems inflated to me though, as Home Depot sells the kit for $179. Either way, Amazon still sells it for at least a $50 savings over the competitors.
This tool looks very handy and a must-have in anyone's tool box. From the photos I can see that it strips floors, buffs and cleans, sands, cleans grout, spreads glue and other applications, cuts hardware, screws in bolts, and even cuts. I'm sure there are lots of other applications for this tool as well. With Father's Dayapproaching, I'm sure this could be a well-used and appreciated gift for Dad.
It has 2.5 amps so it can handle even the heavier jobs, and a variable speed dial so you can customize it to what you need. The included accessory holder makes it easy to change tools mid-job. There are 30 reviews on Amazon for this oscillating tool, and 23 of them are 5-star and 7 are 4-star, which says a lot about the quality of this Bosch item.
The reviewers talk about the handiness of the tool in getting multiple jobs done, but also gives you some feedback on why they would only give it four stars. Most of the feedback is on some smaller issue compared to another more expensive tool. Read for yourself and see if this is the tool for you.
Shipping will be free on this item as it surpasses Amazon's $25 minimum.
(Expiry: Unknown)