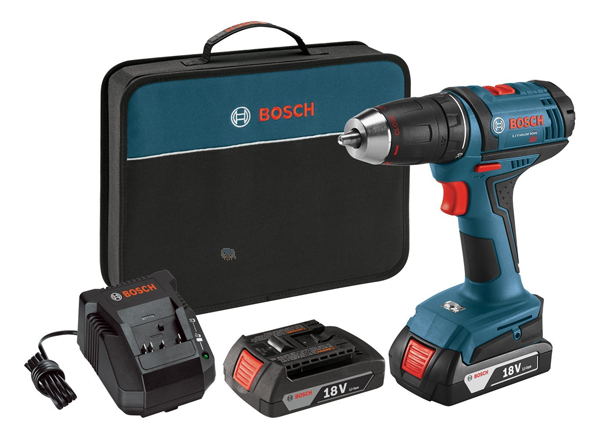 Good morning, Bargainmoosers! Amazon is just full of deals today, as they also have a fantastic bargain available for one of their Bosch tool kits! At this time, you can pick up a Bosch 18-Volt Lithium-Ion 1/2-Inch Compact Tough Drill/Driver Kit with 2 batteries, a charger, and a contractor bag for only $99! This is an outstanding deal - this Bosch kit normally sells for $380! You'll also get free shipping with your order, which is always a nice bonus!
This Bosch 18-Volt Compact Tough Drill/Driver Kit can be the perfect gift for your significant other, or even family members or friends that are particularly handy and love using their tools. Bosch is a reputable name that's known for their industrial-quality tools, and from personal experience, I know many contractors that rely on tools manufactured by this high quality brand.
If you need a compact drill/driver kit that can stand the test of time, and can help you get a wide variety of jobs done without any issues, then you seriously need to consider picking up this Bosch 18-Volt Compact Tough Drill/Driver Kit. It comes with plenty of extras (2 batteries, a charger, and even a contractor bag), and best of all, it isn't a low-end tool brand, so you know that you're paying for a premium product.
If you wanted to buy this Bosch 18-Volt Compact Tough Drill/Driver Kit from Rona today, it would cost you $229. It's currently on sale at Lowe's for $179. Either way, you're getting a fantastic deal at Amazon! I've included a brief review of this drill kit from a satisfied Lowe's customer below:
This was a replacement for my 6+ year old Black & Decker cordless unit. It is far more powerful for driving screws into all types of wood. Battery life is very good and last all day. Highly recommended.
This deal won't be around for very long, so get this deal as soon as you can! Happy hunting, Bargainmoosers!
(Expiry: Unknown)