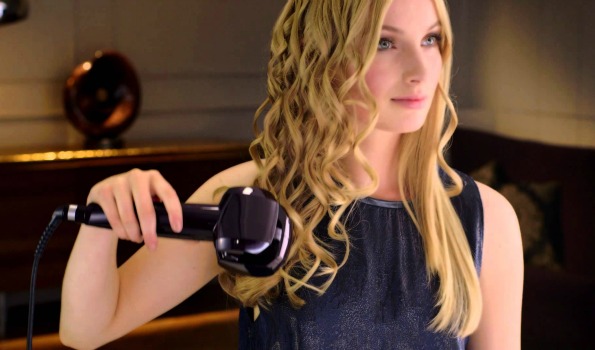 With the holidays approaching you may be thinking about your holiday outfits, but how about your holiday hair? I love curling my hair for special events, but it never stays curled! I have wanted to try something like the Babyliss Pro Miracurl professional curl machine but could not justify the over $200 price tag to myself, since I'll only be using it for weekends and nights out. Amazon is making that justification for me, by reducing the price from its regular price of $299.99, all the way down to $117.99. Of course, being over $25, this item will also have free shipping.
This machine isn't just some gimic that won't do what it says and that is why it is online. It has a number of reviews on Amazon with a huge majority giving it 5 stars. Basically with the curl machine you can create any size of curl, using different heat settings and a timer. You can also control the direction of the curl as well.
What I love about this is that it looks like it curls right up to the root. When I curl my hair with a traditional curling iron, It only does the bottom half, leaving me with a 70s Farrah Fawcett look, which is not what I'm going for these days.
It also gets hot ultra fast, so you don't have to sit around and wait to start doing your hair while your husband paces around in the kitchen.
Reading through the reviews, one reviewer suggested watching for fakes from third-party sellers on Amazon. This Miracurl is sold directly by Amazon, so you won't have to worry about that. Other reviewers say that this item curls their hair within about 20 minutes and that the curls stay all day.
The price for this machine varies widely around the net and Amazon has them far beat. For example, the lowest I saw it otherwise was at Nail Polish Canada, where it is on sale for $149. But, Well.ca sells it for a mind-rattling $249.96.
This is also a lightning deal and sure to sell out from Amazon today.
(Expiry: 19th October 2015)