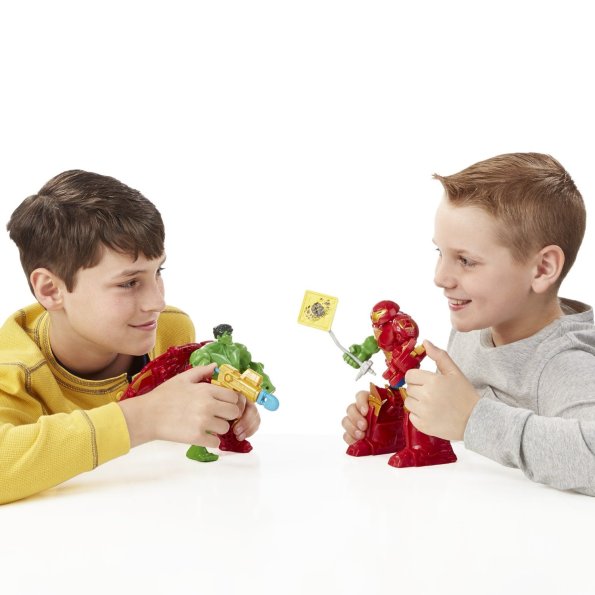 If you've got an action figure fan, I've got a hot deal from Amazon. Right now they've got $5 off $25 of Hasbro Marvel toys. I found this Avengers super hero mashers Hulkbuster vs. Hulk action figure set already on sale. Regularly $39.99, it is on sale for $32.77. Once I've added it to my cart (and gone all the way to the end), I see the extra $5 discount, bringing the price down to $27.77. Because your cart reaches over $25, you'll also get free shipping.
You know what is hard about working for Bargainmoose? Finding so many hot deals and I want to buy them all for my kids! But, if I am writing about it, it means it is so hot, I've probably bought it too. My boys, just like many other boys I know, love Hulk. There is just something about that green, muscled monster man that gets their attention. Last year one of my boys was Hulk for Halloween and his fascination is still going strong.
My boys would probably fight over this set if I were to gift it to just one of them. Basically the set includes two action figures - Hulkbuster and Hulk, plus a few accessories that the action figures can use. Technically, this means that the set can be used by more than one child, or they can also use it alone. I love versatile toys.
I also love that you don't need batteries for these action figures as I'd much rather my child make the "chhhh" and the "shhhh" noises than the toy make them.
Toys R Usalso sells this set, but for $39.99. I think I'd much rather pay $27.
If you were interested in buying more Marvel toys from Amazon and getting that extra $5 discount, I suggest making separate orders as close as possible to the $25 mark so you get as many $5 discounts as you can. Let me know what you got! These make fantastic gift ideas!
(Expiry: Unknown)