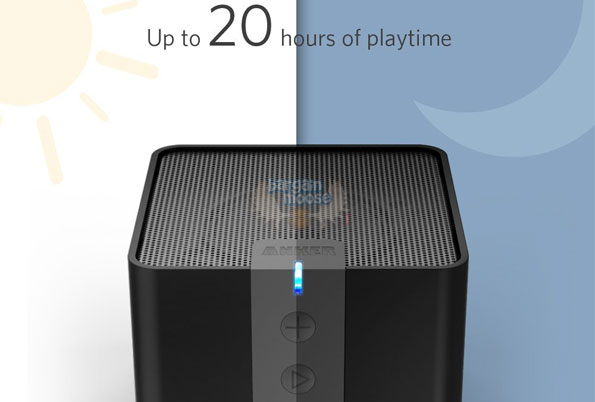 Looking to blast music this summer? Then I suggest you hurry to get the Anker A7908 portable Bluetooth 4.0 speaker at Amazon for just $39.99 and free shipping.
Back in November, Avigayil blogged about the Anker 13000 mAh portable battery, which was, and still is by the way, down to $35.99. At the time, I took advantage of the low price to grab one for my hubby and a couple of months later, even bought one for myself and a friend. Despite having never heard of Anker before, I fell in love with their portable battery and would definitely buy any of their products without much thought because just from the battery only, I can tell that they're durable without compromising on the performance.
In this case, the speaker actually has spectacular reviews on Amazon.ca with a general consensus of 4.5/5 stars based on 228 customer reviews. Not only were users impressive with the general durability of this speaker but also, most importantly with the sound. In fact, in their review of this speaker, WPS News had this final verdict to give on it:
It beats its rivals on several fronts, including sound clarity and definition, connection range, price and customer service, the last of which is not so easy to find for gadgets in this price range
Only the black one is down to $39.99 but if you want it in either white or blue, then you can get it for $10 more at $49.99. Price comparing proved slightly challenging as not only does Amazon.ca not list an original retail price but it's not being sold anywhere else. I did, however, find it on Amazon.com on sale for $39.99, down from an original price of $79.99. That comes up to a 50% discount, which is definitely pretty awesome!
As for the specs, the Anker A7908 portable speaker features up to 20 hours of playtime with a rechargeable battery, a connection range of up to 33 feet and and is Bluetooth compatible.
Personally, I'll definitely be grabbing one of these for myself to enjoy music while I sip an iced coffee outside and blog about the next deal. ;)
Free shipping is also another major perk as Amazon automatically ships orders over $25 for free.
(Expiry: Unknown)