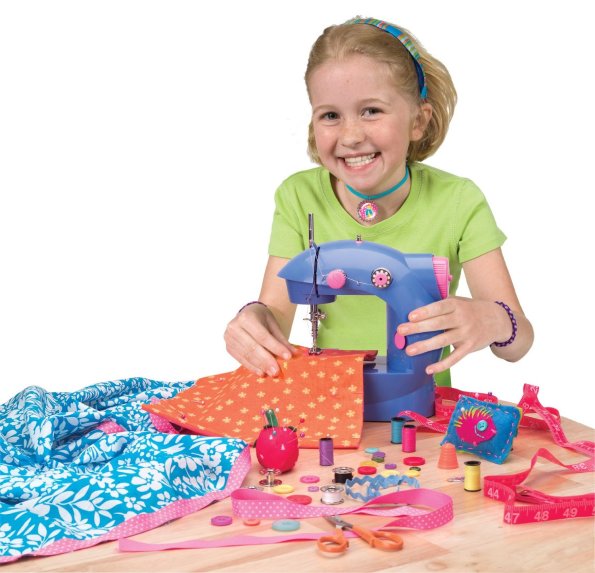 If you've got a crafty kid and want a gift idea to make them squeal, I found an awesome deal at Amazon. Regularly $87.99, the Alex sew fun kit is now on sale for only $59.95. Because you are over $25, this kit will ship for free as well.
You get a lot in this kit! It includes an actual sewing machine, a reusable storage case, all the little things you need for sewing (like needles and bobbins) and two yards of fabric and trim. Sewing is almost a lost art these days. I don't think it is a mandatory subject in school as it was in my day, so kids aren't learning the basics of how to sew on a button or cook an egg. I can't complain though, I disliked sewing wholeheartedly and didn't do very well in the class. Cooking, now that was my thing, so it made up for the bad mark in sewing.
But, some kids love to make things and making their own clothing or doll clothing can be super fun. This Alex kit won a Parent's Choice Approved award as well and I think it is a fantastic gift idea that isn't really a toy.
Before you wonder if a sewing machine will be safe for your child, it has some features that ensure your children don't get their fingers caught and it is recommended for age eight and up.
Imagine the fun you'll have with your child right beside you making clothes along with you! The reviews are not favourable for this kit, but if you notice, the children using it were only six years old. When you buy a child a toy or other item that is beyond their capabilities, you are always setting everyone up for failure. I wouldn't expect this sewing machine to do what an adult machine could do either.
Toys R Us sells this for $79.99 and Well.ca sells it for $85.
(Expiry: Unknown)