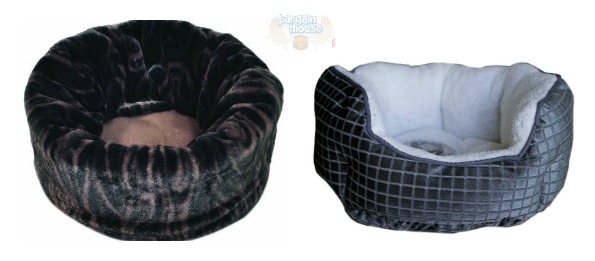 I adore my cats and I am always looking for new toys or things for them to enjoy around the house. While looking for a bed for my new feline, I found a stellar deal on this small P.L.A.Y. Pet Lifestyle and You Snuggle Bed in truffle brown. Originally $61.60, this little pet bed is on sale for $13.21.
This bed is soft in structure and forms into your desired shape (within reason). One side is canvas and the other is plush faux fur for your pets to snuggle into. In the bowl shape, small pets will burrow in and indulge in a cave like atmosphere. You can also use it as a mat or in a sleeping bag style shape. I am sure there are other shapes you can come up with as well.
Here are a couple reviews I found for this bed:
My dog absolutely loves this product. Hes a burrower so its perfect for him. He can now hide in his bed instead of under the blankets.
and...
anyone who has a cat who likes to snuggle will love this bed. would recommend this item to a friend. arrived quickly and as expected.
I am not sure either of my cats is a burrower so I might try out another bed. Speaking of other beds, here are a few more great deals I found for you on pet beds.
The Snoozer Small Round Pillow Pet Bed is on sale from $59.30 down to $13.58. Depending on the style of bed your pet likes, this might be your better choice and it is just as good of a deal. The medium is on sale for 49% but that is not nearly as discounted as this small one at 77% off.
The DanaZoo Gray Square Pattern Cuddler is a bowl shaped bed that I could see being popular with my big black cat Gaiman. When I adopted him from the SPCA, he was in a similarly shaped plastic box lined with towels. This looks far more comfortable. Originally $37.99, it is now only $13.44.
You should also check out the Midwest Quiet Time e'Sensuals Memory Foam Pet Bed for only $13.70 (originally $24.28). It can accommodate larger pets as it is 27" by 36" in size.
Receive free shipping with your Prime membership or you can still get free shipping on orders of $25 or more. Which bed do you like best?
(Expiry: Unknown)