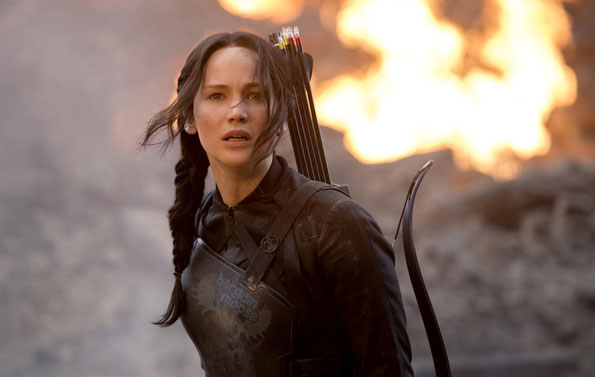 Did you miss seeing the first part of The Hunger Games Mockingkay movie? Then make sure to grab it at Amazon because it's currently 75% off and includes a copy of the movie in all of the following formats: Blu-Ray, DVD and even a digital version. Originally priced at $39.99, it's now down to just $9.99.
Admittedly, the first part of the Mockingjay movies only got up to 6.8/10 in terms of rating on IMDB with numerous reviews stating how disappointed they were in the movie. Personally, I rather loved it and I can be pretty harsh in my reviews as well! It's a 2-hour movie that will definitely keep you on your toes the entire time but it does definitely help to have watched the previous movies in order to understand what's going on. It's not necessary per se, but it does help to situate you and understand some of the jabs.
In a way I can understand the why some reviewers found this movie disappointing but in another way, it makes total sense. Having watched the previous movies and read all of the books, it makes sense that the part one of the Mockingjay series would be setting up the part that is to follow. We would need to wait and see for the second part to hit theatres but I would expect it to be very grandiose with loads of banging action scenes, given that the first part is slower and quieter.
Shipping is only free on orders over $25, so you would need to another filler item. I had a look around in the TV shows and movies currently on sale for 70% off or more and found plenty of great picks like:
If you haven't see it yet, The Hobbit: The Battle of the Five Armies is also currently on sale for just $9.99, which is 75% off its original price of $39.99. Reviews for this one are far more favourable as well with a total rating of 4.5/5 stars and 166 reviews in total.
(Image Credit: Variety.com)
(Expiry: Unknown)