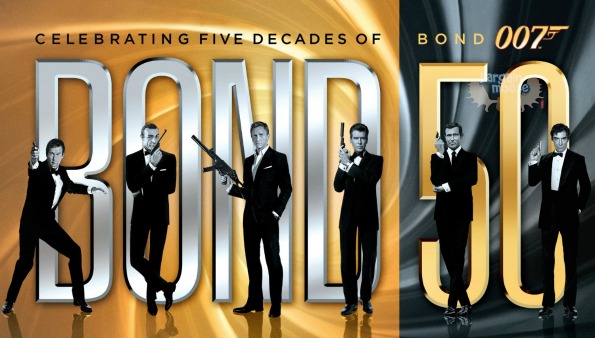 Today only, get 70% off the entire collection of Bond movies! Get the Bond 50 for only $89.99, with a regular price of $299.99 and it will ship for free too. This will make a fantastic gift for any movie buff or Bond lover.
I've actually never watched a Bond movie in my life, but this deal is too good to pass up. My husband is the type to love a movie and watch it repeatedly, rather than try his luck with other movies. If I bought him this collection, I'm sure I'd never see the end of end of it, but it sounds intriguing, and I bet I'd love it too. 101 customer reviews that give it almost 5 overall stars can't be wrong.
What you get for $90:
23 films on Blu-Ray
120 hours of extras
You'll get all of the Bond movies in this collection from Dr. No to Skyfall, which is the latest. Apparently there is one Bond movie missing, which is never included in any boxset (Never Say Never Again). This is truly hours and hours of watching. I would be very interested in seeing how the Bond men change over time.
Reviewers site how the quality of the movies is greatly improved on the Blu-ray versions, although the packaging is not very nice.
I was a little worried as I had read about issues with the books falling apart, but so far there have been no problems! The movies look amazing, and there are a good amount of special features. I'd recommend this for any bond fan who doesn't yet own all of the movies.
Just to give you a price comparison, Best Buy has it on for $109 as a special price, but with only a few copies left in stock.
I have a feeling this deal with sell out quickly, so if you want it, don't hesitate. It is also on today only, so you've got 18 hours left to get it even if it doesn't sell out.
(expiry: 14th November 2014)