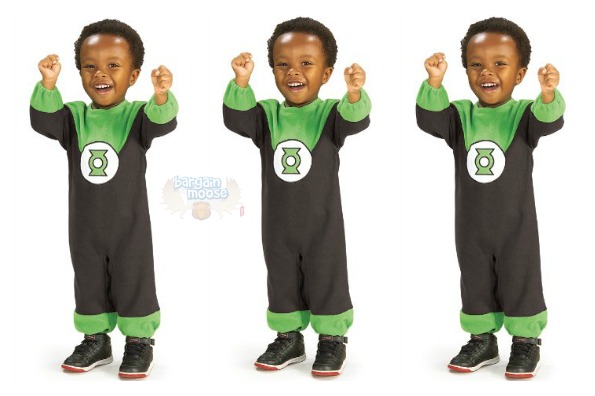 Amazon Canada has a really hot deal on this Justice League Green Lantern Romper Costume for six to twelve month old children. Originally $29.99, the costume is on sale for $5.14!
Seriously! It is nine days before Halloween and you still have time to get a costume shipped in to you from Amazon Canada. This is the perfect deal if you have a young child who needs a costume for Halloween! You are saving 83% on this cute little officially licensed super hero costume. The romper style costume opens from the bottom for easy diaper changes (yay!). There is also an infant version but it is far more expensive ($25) and sold out.
There are really good reviews for this costume on Amazon.com. One reviewer said:
The costume is pretty well made, soft and from our little guys smiles I believe, comfortable. It has gone through the wash and came out okay. The buttons snap together easy and hold tight. The size is on the upper level of the age range ie 6-12 is a true 12 and not a 6. Very happy with the purchase.
Green Lantern is a cool dude, and they are going to be releasing another Green Lantern movie when your kid, who wears this now, is nearly old enough to see the movie. They are estimating the next Green Lantern movie will come out in 2020!
Now, this costume qualifies for free shipping on its own if you have a Prime account. You can easily sign up for a one-month trial of Family Prime and get this costume shipped to you for free. There is also a six-month free trial of Student Prime you can sign up for as well and then get this shipped free of charge. If you do not have a Prime account and have already exhausted both free trials, then you can get free shipping on orders of $25 or more. Shipping under that will only cost you a few dollars if my estimations are correct ($2.99 base cost + $1.49 per lb.).
Quantities are limited and selling out quickly! Get yours while you can. Even if the product goes out of stock you can still buy it from Amazon; however, you might not get it in time for Halloween unless they restock it quickly.
(Expiry: Unknown)