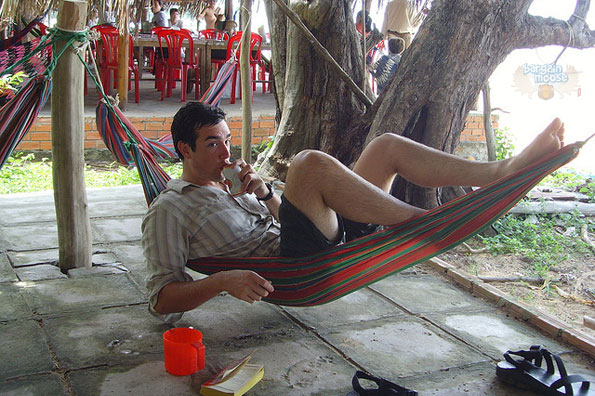 Want to sway around in a hammock this summer as you sip an iced tea and read a good book? Amazon has an amazing deal on a Vivere Brazillian double hammock: you can get one for just $29.58 right now. It was originally priced at $67.17, which puts it at 56% off! Shipping is free as well.
Once you click over to Amazon's page, you will see that there are a couple of Vivere products to choose from but the one I'm writing about here is at the very top and is available in two colours: either denim (blue) or regal red. Both of these are double Brazillian hammocks that come with a zippered carrying bag.
Reviews are super positive for this hammock as well. For the denim (blue) one, 9 reviewers gave it a general consensus of 4.9/5 stars, praising it for its long durability and best of all, comfort level. One of the reviewers wrote that he's actually 6'1" 330lbs guy who finds it "super comfortable" -- his exact words, by the way --, so don't worry about it seeming too small as it definitely isn't! Hammocks can be scary contraptions but once you get over your initial fear of either crashing down because of your weight or flipping over, you will see that you have really been missing out on a fabulously relaxing experience all the years that you have gone without one.
In fact, even Amazon's description of this hammock mentions that is has a 450lbs capacity. That's actually pretty impressive for a hammock bed that is 95x63" with a total length of 156". It also has a 1-year limited warranty, so you can rest assured that if something were to happen to it, that you could contact Vivere for a fix!
I'm definitely also surprised that shipping is free. If you want to hang your hammock between two trees, then make sure to keep an eye on the Vivere tree straps. They're currently out of stock but only "temporarily" and you never know when they come back in stock. They're worth getting though if they do because before they went out of stock, they were on sale for $11.34 (reg. $33.99), which is 67% off -- an extremely small price to pay for a high comfort level!
If you would prefer a hammock chair instead, then grab the Vivere Brazillian hammock chair one on sale for $38.38 (reg. $89.57). I'm actually quite tempted to get this, though keep in mind that the hooks and spring are sold separately. It would be pretty awesome to use as a peaceful reading nook in the summer -- for those of you who don't have kids that is!
(Image Credit: BrandontheMandon)
(Expiry: Unknown)