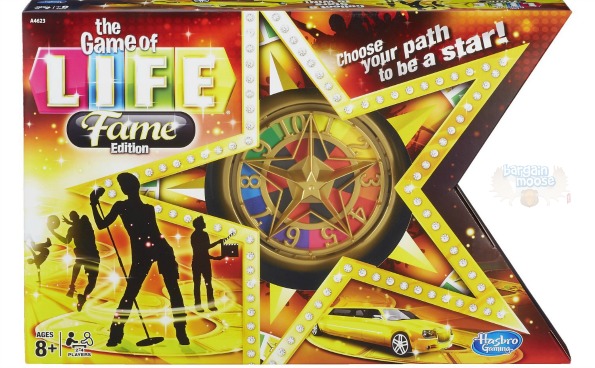 Amazon Canada is selling the Game of Life Fame Edition for 55% off the retail price. Originally $24.99, pay only $11.36 for this fun game and add it to your collection.
While this will not qualify for free shipping on its own, you might want to add it on to your order if you are planning to make a purchase at Amazon Canada. Amazon offers free shipping on orders of $25 or more.
I price compared this game at a few places. Walmart Canada sells the game for $24.93 and ToysRUs Canada sells the game for $24.99. While ToysRus does offer 20% off when you buy three games or more, the price would still be well above Amazon Canada's discounted price on this game.
Have you ever played the original Game of Life? If so, then you know what this game is all about. Drive around in your limo while acquiring an entourage, making money, and becoming a bigger star! Like the original Game of Life, you can have different careers like supermodel, pop singer, pro athlete or movie star. Unlike the original game, you need to collect five stars (found along the path) to win the game.
Reviews for the game are mixed. Some people are happy with it:
Not anything like the original Life game, which is ok as its completely different for family game nights. Son wanted it as they had it in his classroom, so Santa got it for him. Overall its a fun game.
While some people do not like the game (or the packaging) at all.
My parents bought this for my eight-year-old daughter when they were looking for the real game of Life but could only find the Fame edition. This one is not only insulting but has the stupidest and cheapest design. I guess maybe it's an accurate lesson in the real game of life: Humans deserve to be extinct.
I think someone was having a very bad day because that is somewhat harsh.
For $12, I think this is a decent buy to add to your game night. The favourable reviews greatly outweigh the negative reviews on the websites I have looked at. This game is different enough from the original that you can own both and they will not feel repetitive.
Hey Moosers, do you have a games night in your home? If so, what kinds of games do you like playing?
(Expiry: Unknown)