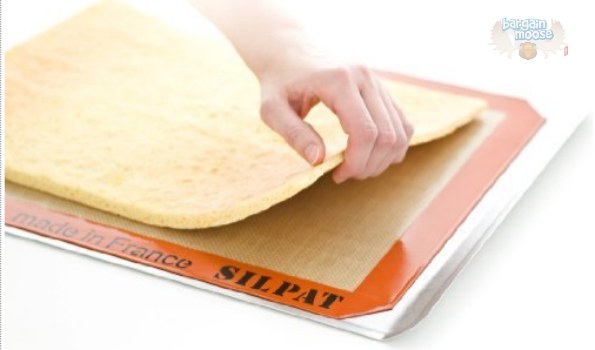 I am an avid baker and my husband is an avid cookie eater. I have been looking for easier ways to unstick the more delicate of my baking from the pan without too much oil. Amazon Canada currently has 30% off a Non-Stick Jelly Roll Mat, and I think it just might be the thing. Priced at $19.33 it is 30% off the original price of $27.49.
So what do these things do? Well you simply put on on your baking sheet and then plop whatever you are trying to make on them. It is especially good for sticky materials, like making caramel.
Info:
Made of fiberglass and silicone; mat can be used thousands of times
Mat conforms to US regulations on food grade silicone, and is FDA, NSF, and Kosher certified; made in France
Mat measures 14 3/8 x 9 1/2"; fits standard 15.25 x 10.25" Jelly Roll pan
Nothing is supposed to stick to this mat, so I am pretty tickled at the idea. It has really awesome reviews too!
If you ever use an oven, you need this remarkable piece of equipment. Nothing, absolutely nothing sticks to it & it washes clean in seconds. Do yourself a favor & get several in different sizes to fit your baking sheets.
I used the Silpat Jelly Roll Liner for the first time this month while making 10 pumpkin rolls for the holidays. When it came time to remove the liner from the baked pumpkin roll, it peeled right off with ease--no more fighting with waxed paper or cutting of parchment paper for me. I love this product!
I am all for useful baking ingenuity - and non-stick pans!
Expiry: Unknown