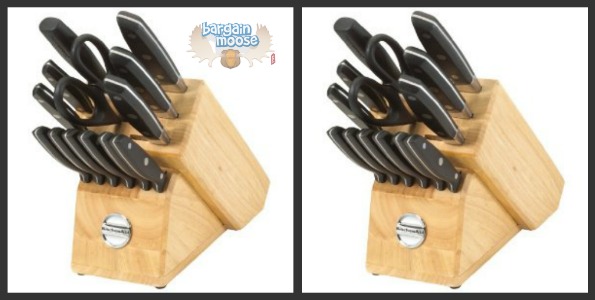 Save 62% off a KitchenAid 14 piece knfie set at Amazon Canada. Regular $129.99, it's now on sale for $50!
The KitchenAid Set features:
Comfortable grip with fully contoured triple-riveted handles
Sharp blades made from high-carbon stainless steel
Pull-away steak block moves easily from countertop to dining table
8" Chef knife, 8" Slicing knife, 7" Santoku, 5.5" serrated utility knife, 3.5" Paring knife, sharpening steel, all-purpose kitchen shears & 6 steak knives
A great feature that many sets don't have is the pull away steak knife block. A reveiwer writes,
The blades are sturdy, sharp and heavy in my hand. I love how the steak knife section is portable, so I can bring them to the kitchen table on their own.
This item will ship for free since it's over $25. KitchenAid is a trusted brand, so you can expect good quality. With the variety of knives in the set, it's a great set for any family kitchen. (Thanks to ksanders in the deals forums)