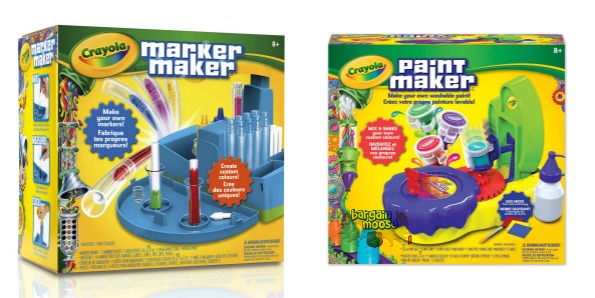 Amazon Canada has discounted the Crayola Paint Maker and the Crayola Marker Maker from $26.99 down to $13.97 each. While each item does not alone qualify for free shipping, you can easily get free shipping by adding both Crayola maker kits to your cart.
I price compared with other online Canadian retailers. Walmart Canada has the Crayola Paint Maker for $20 and Toys R Us Canada sells the same paint maker for $27.99. Sears also sells this set for $26.99. I also compared prices for the Crayola Marker Maker. Walmart Canada sells the kit for $20 and Toys R Us Canada sells the kit for $27.99. Walmart is the next best, but even then you are paying an additional $6 per kit compared to Amazon Canada.
Now I have established that these are, indeed, the best price around. When you pair them together - two kits for $27.94 - your order also qualifies for free shipping across Canada. Perfect!
The Crayola Paint Maker allows children to make their own washable paint. This is not just a kit with a few paint colours to choose. Rather, your child can create their own custom colours by mix and matching dyes into the paint base. There is a colour-mixing guide to help your child create just the colour they want. Then, shake up the paint pot (lid on!) to mix the colours. Presto! Fun, washable paint for your child to decorate with. One parent on Walmart said:
I bought this to entertain a seven year old and it sure did the trick. Was lots of fun and after we figured it all out we were able to experiment with colour and design. Good fun for an afternoon and easy to clean up. Refills are available and affordable.
The Crayola Marker Maker lets your kids create their own markers! The set includes three ink bottles, two marker boxes, two measuring tubes, tweezers, a mixing chart, 16 marker part sets (barrels, labels, cores, tips, caps, and plugs). Parent supervision is recommended for younger children. If your child wants more after making sixteen markers, you can buy a refill package for this set.
Both sets look like so much fun and are now far more affordable! Pick up both of these kits at Amazon Canada while the deal lasts.
(Expiry: Unknown)