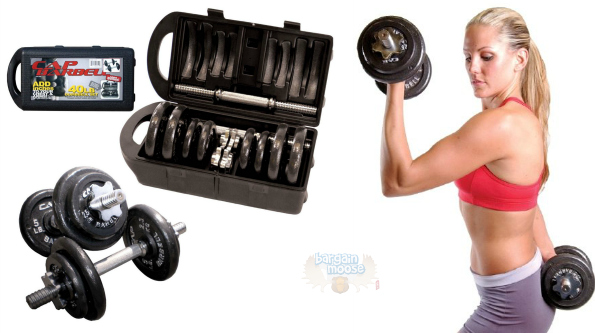 Fitness is very close to the hearts of many people. If weight lifting is part of your regime, or you want it to become part of your regime, then pick up Cap Barbell (RSWB-40TPB) Dumbbell Set - 40 Pounds. Originally $111.99, the set is now marked down to just $47.99. Believe it or not, Amazon Canada still offers free shipping on this set of weights.
Do note: even if these go temporarily out of stock, you can still order them! It just means Amazon Canada will ship them when they receive their next shipment. That is one of the beauties of Amazon Canada.
I also want to clarify - for comparison purposes - that there are two versions of this set. One of them (not this one) has plastic cased weights. This set features 40 lbs worth of cast iron plates, two 1" bars, and four plate collars. I discovered this difference when price comparing as there is a substantial price difference between the plastic and the cast iron sets.
Speaking of price comparison, this same set costs $49.99 USD at Amazon.com, which equals around $64 Canadian. This set sells on eBay as well, but you are looking at a minimum of $62 USD before shipping and import fees. Walmart had these on clearance $1 cheaper - $46.97 but you had to pay for shipping - and they sold out before you could blink. One reviewer at Walmart said:
I bought this set several days ago. Great dumbbells with good quality, sturdy box case and reasonable price
The weights, plate collars, and bars come in a convenient storage case so you do not have dumbbells sitting around your house everywhere. Trust me; stubbing your toe on a dumbbell is a certain kind of hell only likened to stepping on a LEGO.
I am trying to get into fitness instead of just be preoccupied with losing weight. I think it is a subtle shift in the way one thinks to accept your body as it is and decide to fine tune it instead of constantly obsess over every single cookie crumb. I have some free weights, but a set like this could really help in strength training.
Overall, I am quite pleased with this deal as you will receive a large volume of weights - with free shipping to your door - for under $50.
(Expiry: Unknown)