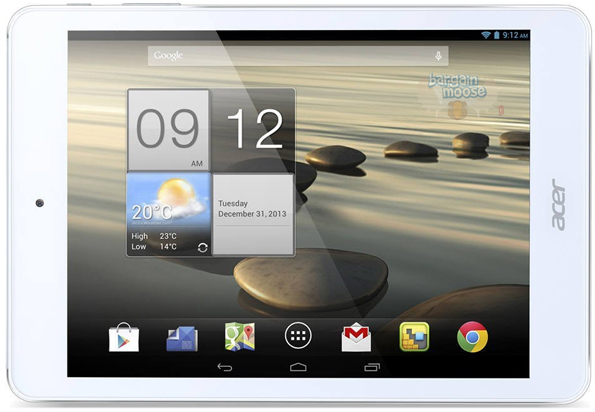 In the ongoing event that is Black Friday deals week @ Amazon.ca, they've had some really excellent one day deals and today is no exception. Right now, you can pick up a half price Acer Iconia 7.9" tablet for half price – it's down from $199.99 to only $99.99 with free shipping from Amazon!
The full title of this item is the: Acer Iconia 7.9-Inch Tablet (A1-830-1838) with Android 4.2 Jelly Bean, Intel AtomTM processor Z2560, 1 GB, 16 GB Storage, 7.9-Inch display with IPS. It looks like a decent enough device, good for some basic home tasks.
Price Comparison Elsewhere
This is by far the best online price in Canada for this model of Acer Iconia tablet. Elsewhere, I've spotted the Acer A1-830-1838 for $140 @ FactoryDirect, $180 @ The Source, $160 @ TigerDirect, $213 @ CDW, $177 @ OfficeMax and $178 @ Walmart. Walmart and Amazon are in price wars at the moment, so it's great to see such a price difference there, and a super price from Amazon.
While this particular tablet is probably not quite going to be up to the same quality of an iPad Air, you have different expectation when you are paying only $100 for a tablet. For this kind of thing, I think it would be great for young teenagers as a Christmas gift, great for playing little games and watching movies, etc. When my nephews were 9 and 11, they each got a tablet from Santa for Christmas, something similar to the Acer above. They're definitely not as easy to use as an iPad, but they were a great little gift.
Some Other Amazon.ca Lightning Deals Today Only
Remember, everything over $25 gets free shipping!
(Expires: 25th November 2014)