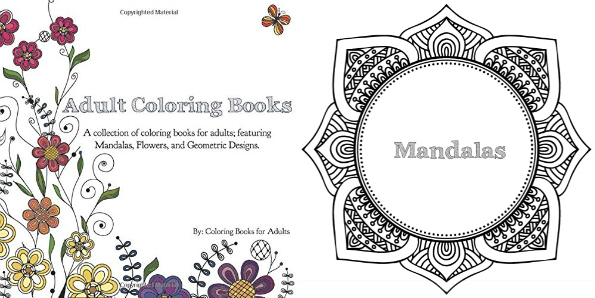 Adult colouring books are a big hit right now and I found a precious deal at Amazon Canada that I just cannot resist sharing! This Adult Coloring Books: A Collection of Coloring Books for Adults; Featuring Mandalas, Flowers, and Geometric Designs is on sale from $8.35 down to $3.68! This is one of the cheapest colouring books I have seen and such a great add-on to your cart. Receive free shipping on just the book if you are a Prime Member or receive free shipping on $25 or more.

As per usual I always price compare books with Chapters Indigo. This same colouring book costs $14.11 @ Chapters Canada and $14.40 @ Book Depository. You might now understand why I am going crazy over this deal - the price is WAY lower at Amazon than anywhere else I found this book!

This colouring book is great for beginners. It features a sampling of different art to see what you like best. Most colouring book would give you one major theme: like a book on mandalas (which I have). However, you get a combination of mandalas, flowers, and geometric designs to see which ones you like colouring best. I thought I would like colouring animals best, but I have found mandalas pretty awesome.
The book features 45 full page illustrations and a few smaller images for you to colour. While this isn't quite as large as other books, the original price reflects that and the sale price just blows everyone away.
I find adult colouring books to be an excellent source of stress relief. I just sit and concentrate on what I am colouring in instead of stressing about the day. My biggest decision is over what colour goes where - it is so relaxing. Of course I make plenty of mistakes, but I always try to finish a picture even after a mistake. It is sort of a good way to learn how beautiful things can be born even when we make mistakes along the way.
I am not sure how long this book will remain at this price. Amazon Canada has a habit of jacking up prices once an item gets popular. Pick this gorgeous book up for yourself and friends while you have the chance.
(Expiry: Unknown)