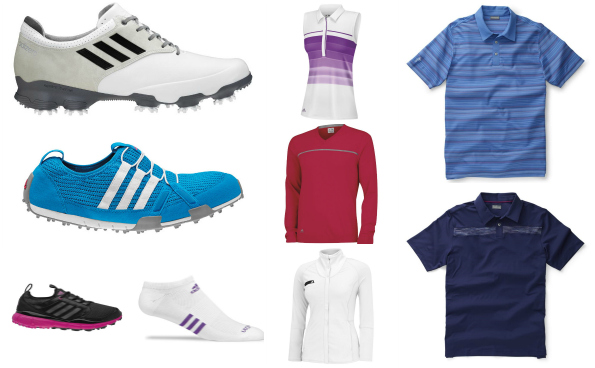 Adidas Golf is - in my opinion - offering one of the best deals I have seen today. They currently have up to 70% off select items. Those items are in the outlet, which is an extra 40% off when you go to the product page. Then, stick any product in your cart and receive an extra 30% off. Between those three discounts, you can save some incredible amounts of money. Receive free shippingon your order as well.
Let us start with the best deal. These adizero one shoes are already on sale from $199.99 down to $59.99. That is 70% off before we even combine the other two discounts. Once you click through to the product page, they come down to $35.99. Then, I add them to my cart and the price comes down even further: to $25.19. You can see all three stages of the process here: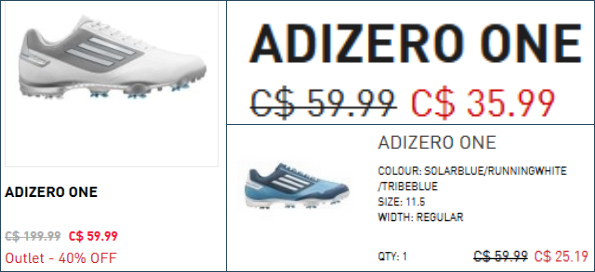 Sizes, as you can imagine, are super limited. You will also want to check out the men's adicross II Shoes that were originally $119.99 but come to a final price of $33.59. These adizero Tour are also on sale from $199.99 with a final price of $54.59. Between all three sets of men's shoes, I think we have 9.5, 11.5, 12, and size 13 covered.
There is something similar on the women's side but there are still a huge number of sizes available. The Womens adizero Tour IIwere originally $139.99. After the sale price, outlet price, and then extra discount in your cart - they come down to a final price of just $41.99. If you are into golfing, then this is the place to pick up a brand new pair of golf shoes.
For all the non-golfers among us, there are some great fitness clothing deals as well. I am having a hard time not buying this Puremotion Tour Jacket. Seriously, this jacket was $100 and comes down to only $21 in my cart. A couple sizes are even left in stock. I like this jacket for so many reasons - besides the price. It has a really nice shape to it and it has a high neckline for staying warm. The jacket has thumb holes - one of the best features ever - and I know the quality is out of this world because it is made by Adidas!
We cannot forget a few accessories. This Puremotion Belt was originally $80 and comes down to $16.80 in cart. My favourite deal - besides the top is on these Puremotion ClimaCool Women's Golf Sock. Originally $15, you will pay just $3.15 per pair. I ordered three pairs of a similar sock the last time this sale was on and they are AWESOME. However, white is so hard to keep clean.
(Expiry: 6th December 2015)