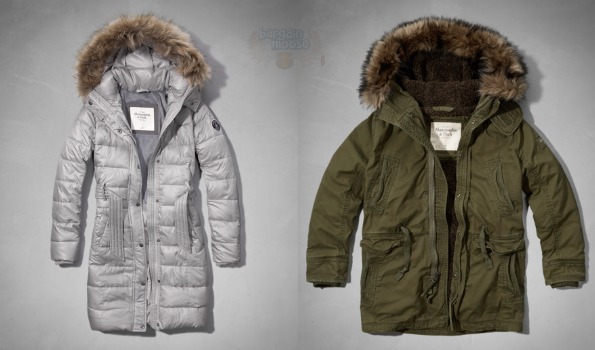 Abercrombie & Fitch has the most amazing combination of deals on right now. Their winter coats are on sale for up to 50% off right now. On top of that, you can use the following coupon code for up to $50 off your entire order.
Click here to shop women's parkas @ Abercrombie & Fitch now
Click here to shop men's parkas @ Abercrombie & Fitch now
Coupon Code: 11358
Discount: $15 off $75, $25 off $100, $50 off $150 + $5 shipping
Expiry: 8th December 2014
You can get coats for as little as $60 with this coupon code. This men's A&F All-Season Weather Warrior Jacket was $150 and is now on sale for $75. It just reaches the lowest coupon code threshold, thus you can get it for just $60! The Fleece-lined A&F All-Season Weather Warrior Jacket is an extra few dollars but well worth it for the extra warmth. Originally $170, it is on sale for $85. After coupon code, pay just $70.
For high value offers, I picked out the Pine Point Trail Sherpa Lined Parka that was $315 and is now on sale for $157.50. The parka has a longer length to keep your lower bits cozy, a Sherpa lining, detachable faux fur trim on the hood, storm cuffs, and the whole nine-yards. Use the coupon code above, and this durable men's parka comes down to just $107.50.
If you choose one of the parkas discounted to $147.50, just add on a tiny item like a pair of socks or briefs to push your cart over the $150 level. That way you will receive $50 off instead of $25, which is worth the extra $10 or so item as you are getting a much larger discount.
In the women's section, I found this A&F Expedition Jacket on sale from $255 down to $127.50. This parka will reach about mid-thigh length depending upon your height. It has quilted insulation for keeping you warm, as well as the standard storm cuffs. There is both a zip and a snap enclosure. If you just bought this jacket and used the coupon code above, then you would pay $102.50. However, if you boosted your cart up to $150, then you would pay only $100 because you get that extra amount off. Essentially, you would get another $23 worth of free stuff. Purchase the coat in silver or in olive.
While Abercrombie & Fitch ships from the United States, their FAQ says:
The price that Canadian customers pay to Abercrombie & Fitch includes the Customs Duties, Taxes, and Shipping and Handling Fees.
Therefore, you do not have to worry about any extra charges upon delivery.
With the coupon, shipping will cost you only $5. However, if you take the time to create a (free) account with Abercrombie & Fitch, you can save yourself $5 as their members receive free shipping on orders of $75 or more.
For this and any future Abercrombie & Fitch coupon codes, please visit our forum.