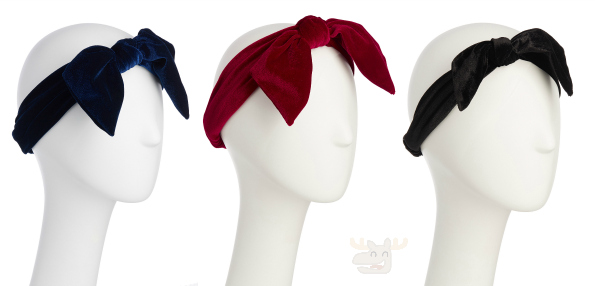 I have an obsession with velvet all year long, but many people like to wear velvet in the winter because it feels holiday-ish. I found this decadent Shimmery Velvet Headband on sale from $25 down to just $1.99 at Simons Canada. Receive free shipping on all orders for the Thanksgiving Weekend.
This is a one-size fits all headband that comes in several different colours: black, creme beige, marine blue, ruby red, and dusky pink. Each headband has thick elastic completely covered in the velvet fabric, which culminates into a knot at the front. These would be perfect for Christmas parties, holiday gatherings, and just any festive occasion during the season.
I like headbands because they pin my hair back out of my eyes. They are fantastic for cooking, cleaning, and various hair styles when I go out. I like velvet because of the texture and the shimmer. When the fabric moves, light bounces off it and it shimmers beautifully. That is why velvet is such a festive fabric. I have a skirt that will match the red version and a gorgeous burnout velvet black dress that will look great with the black velvet headband. I used to own a skirt that would have looked marvellous with the marine blue.
These headbands are a fantastic deal and with free shipping - you cannot go wrong. There are a bunch of other hair accessories you might want to pick up while you are shopping at Simons Canada as well.
This Bun Shaper was $5 and is now on sale for $0.99. It is perfect for pony tails and a great stocking stuffer. I also like, and might buy, this Sheer clip that was $6 and is now $1.99. I used to wear clips all the time because my hair is thick. Clips were the easiest way to pin my hair back when I was busy. For a smaller clip, pick up the Black and white clip that was $2 and is now $0.99.
These headbands make great stocking stuffers as well for the females in your family. At only $2 a pop, you will be hard pressed to find a nicer headband at a better price.
(Expiry: 12th October 2015)