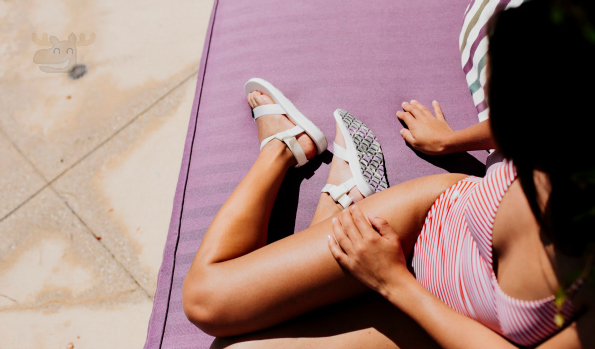 Remember me? I am back with another fantastic Mountain Equipment Co-op deal. These women's Teva Original Marbled Sandals were $55 and are now on sale for just $9! that is 83% off the original price.
This sandal is currently available in sizes 6 to 10 in pink and size 10 in the white. With such a large size selection still available in the pink colour, I am really excited to share this deal. The uppers are polyester webbing so they dry fast and the universal strap system will fit all sizes of feet. On the straps, you will find hook and loop closures for getting your shoes quickly on and off. The midsoles are made of EVA for cushioning and the outsoles are made of Durabrasion rubber for a grip that will last for a long time. One reviewer said:
I love these - so comfortable. I chose white and I love them. The only down side is that they are a very practical sandal and I want to wear them for everything but I chose the most unpractical colour. I will a 2nd pair of the classic style I plan using for camping and such. I have no regrets, I like the white. I'm so happy Tevas are cool again.
There are far more sizes available in the pink, which is a much more practical colour as it shows dirt less.
Teva makes good quality sandals that fit really well. I used to own a pair of their running shoes and they were the lightest, most comfortable, and best fitting shoes I owned. I find Teva fits wider feet much better than other brands (like Puma or Adidas).
MEC offers free shipping on orders of $50. There is a flat rate shipping cost of $6.50 below that and I think these sandals are well worth the shipping price.
Reminder: MEC is a co-op, thus a membership is necessary to buy from them. Membership is only $5 and is good for your entire lifetime. You can always check with your friends and borrow their membership if you want to order this and do not have a membership yet. Or, you could invest in your own membership knowing that just with this deal, it easily pays for itself. I have posted other amazing sales - like this Misfit - that are pretty awesome too. $5 for access to these deals is peanuts.
(Expiry: unknown)