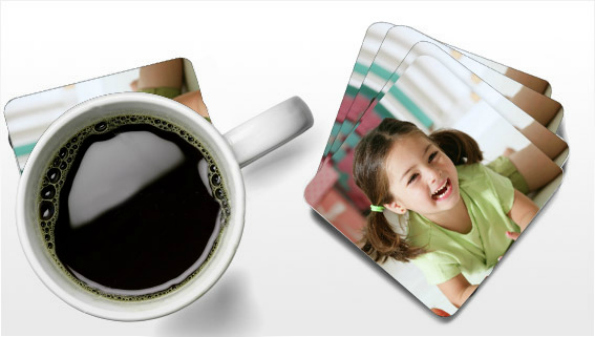 I am STOKED at this awesome deal I found at Photobook Canada. Right now they are running daily deals up until Christmas and today's deal is pretty awesome. Get 80% off a set of four coasters with holder using the coupon code below. These coasters retail for $21.99, so they come down to just $4.40 for the set! I also found a super cheap shipping option via DHL - where shipping only costs $4.59. Together, that adds up to $8.99 + tax for a set of four personalized coasters.
Click here to start designing your new coasters @ Photobook Canada now
Coupon Code: DAY6
Discount: 80% off a set of four coasters
Expiry: 11th December 2015
This voucher is only valid on a set of four coasters that will come with a holder. You can pick a pre-made design and just add your own photos or you can go with a blank slate and design your own. You can use the voucher multiple times but you can only have one set of four coasters per order (so place several orders). Shipping is always the big deal with these offers but i found a super cheap shipping option:

Photobook Canada offers standard shipping with no tracking via DHL global. Keep in mind that if you choose this option, your item will not arrive in time for Christmas - or it might but it is highly unlikely. That quote is to my BC address so it could be slightly cheaper or slightly more expensive depending on what part of the country you are in. The next step up is 5 to 7 day shipping for $7.99. It is your call.

Here is my test cart with the coupon applied (last stage of checkout after designing coasters). You can see that the total of $9.44 includes taxes for British Columbia. Before tax, the total is $8.99. As taxes differ per province, I left the taxes out of my main calculation.
This is a pretty sweet deal, I must say. A set of coasters for under $10 even after tax is included is just phenomenal. You will not find a deal like this anywhere else - especially after today as this offer is one day only. Let me know if you pick up a set and what shipping option you opted for.