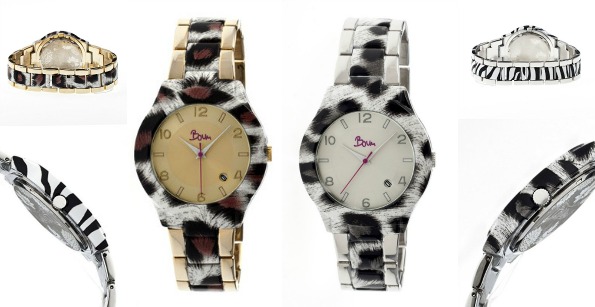 Shopping for yourself or is there a special lady on your Christmas shopping list? Then pick up one of these exciting Boum Bombe Ladies Watches at 77% off. Originally $162.50, each watch is now discounted to $37.12 at This Counts. That price includes taxes and you will receive free shipping.
As an added bonus, 25% of all proceeds from these watches is donated to the Sick Kids Foundation. There are four gorgeous patterns to choose from: silver leopard, gold leopard, snakeskin, and zebra. All four are tasteful animal patterns printed on the metal case for a chick look. The silver leopard is my favourite of all the patterns and it has such a soft fur-like appearance that certainly reminds me of a leopard.
Because the pattern is printed on the metal, it is not only around the face of the watch but the pattern extends into the middle of the band encircling your wrist. This is a really nifty feature and makes these watches stand apart from many others I have seen.
Inside the watch, you can enjoy the dependability of Japanese Quart Movement. There is a non-glare and scratch resistant mineral crystal face cover that will keep your watch in great condition for many years. The jewellery clasp will be familiar to most women as well.
While this watch is water resistant to 3 ATM, I highly recommend removing it for washing dishes, showering, and such. Water resistant is not water proof. This watch not only has the appropriate numbers to show the time, it has a small date window so you know what day of the week it is just at a glance.
Now, I have mentioned Boum watches before, when a series of Gateau watches was on sale for 68% off. However, this discount is substantially better at 77% off! I also wanted to mention the Boum Miam Ladies Watches on sale from $143 down to $33.80. That is 76% off the original price so it is nearly as good of a deal as the Boum Bombe watches. I actually like the patterns on the Miam watches better, and you might as well so check them out when you are shopping. There are 10 or so different patterns available in the Miam style.
As for price: I found the same Boum Bombe watches at Amazon.com for around $72 USD. Everywhere else I could find them, they were at least $79 USD.
(Expiry: unknown)