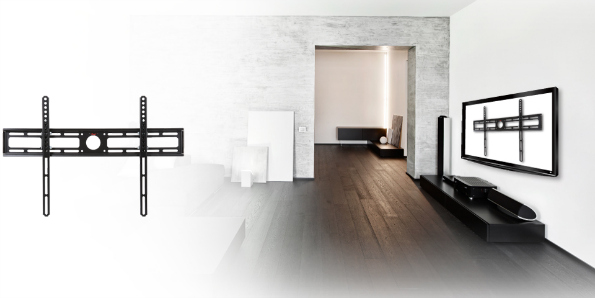 My parents got their first flat screen TV for Black Friday, and now they want to mount it on the wall. I haven't exactly been looking for one actively, so imagine my surprise when I stumbled across this deal at Newegg Canada. Pick up the Rosewill RHTB-14003 32"- 70" LCD LED TV Lockable Tilt Wall Mount with 6 ft. HDMI cable on sale from $79.99 down to $19.99 with $5.99 shipping.
This mount comes with extras, so you will definitely want to pick this boy up. First, the mount features a bubble level so you can make sure it is completely even across. There is nothing like a crooked TV. This beats the whole 'measuring down from the ceiling' method, which doesn't work very well if your wall or ceiling line is crooked. This is a tilt-mount, which means you can tilt the TV screen down for a better viewing angle. This is a valuable feature and mounts that tilt usually cost way more.
Once you get up to the 70" TV size, you will need to double check weight. This mount has a max load of 99 LBS. Do not try and hang off it to make sure it is secure unless you weigh under 99 lbs. Maybe use one of your kids.
As a bonus - you also receive a 6FT HDMI cable with your purchase. I would say this is about an $8 value alone, so you are doing pretty well with this deal. I will be picking one up for my parents.
To ensure compatibility, make sure to measure the VESA at the back of your monitor. I believe that is the space between the screw holes on your television. This stand has a maximum VESA of 600x400mm.
This flat screen television wall mount blows the competition away. I have seen small - under 32" - wall mounts this cheap once or twice before, but I have never seen a tilt wall mount for up to a 70" television for this cheap. In fact, a quick price comparison with The Source gives me a 37" to 65" for $99.99 and Best Buy Canada had an Insignia mount - same size as the Rosewill - for $79.99. There was a mount that went up to 60", but it is still $49.99. You will not find a tilt mount this size anywhere else for this price. You can find non-tilt wall mounts around this price but they have fewer features.
If you do not need a tilt-mount, then pick up the Rosewill RHTB-14006 - 37" - 80" LCD LED TV Ultra Low-Profile Flat Wall Mount - Max. Load 132 lbs. Television, VESA Up to 800x400mm, Mounting Profile: 0.98", Black on sale from $44.99 down to $14.99 plus $8.19 shipping. This is a pretty basic unit, but it is a bit cheaper than the one above.
(Expiry: Unknown)