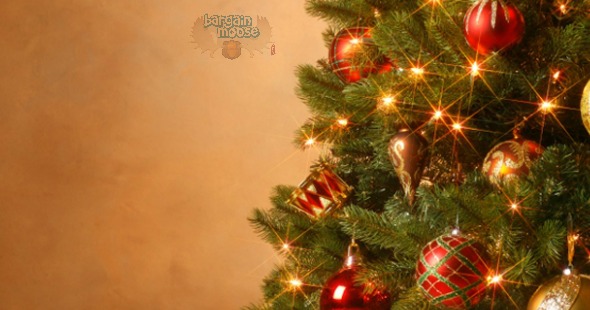 This year, we decided it would be a great idea to get a kitten for the family for Christmas. This year we also said goodbye to our artificial tree, thanks to the kitten. That leaves me shopping for a new tree for next Christmas. The best time to shop for a Christmas tree is right after Christmas of course, when everything seems to be greatly discounted. For example, Giant Tiger has Christmas Trees for up to 75% off their original price. There are two specific trees I thought you would love, they are only $30 or $60.
Honestly, I have a slight obsession with lights on a tree being evenly spaced apart. I spend so long trying to make this happen when my Christmas trees are not prelit. Last year was the first year that I bought a prelit tree, and I was very impressed.
The Prelit Pointed Pine Indoor Christmas Tree with Multi Coloured Lights is 6.9 feet tall. That is more than enough height for a tree. This tree was $120 but now you will pay just $60. If you have kids, you will love this tree. The colourful lights will add character to your tree and keep the kids amused as well. This tree is bushy, bright and tall. There are 963 tips which means you should have no problem making this tree look full.
If you are looking to spend a little less, check out the Prelit Pointed White Indoor Christmas Tree. This tree was also originally $120 and stands 6.9 feet tall. For just $30 you won't have to worry about purchasing any extra lights either. This Christmas tree will look classic and match any decor. Since this Christmas tree also has 963 tips, it will be just like the tree I mentioned first. This is the better deal if you don't care for coloured lights. It is also half the price of the coloured light tree.
I had a third Christmas tree to mention as well, for just $50. This tree sold out while I was writing this post. If these Christmas trees are what you need, grab one quickly. These prices are available only online, but you will be pleased to know that Giant Tiger will throw in free shipping on your purchases over $25. I also noticed on their website that they have a savings card offer. When you spend $50 at GiantTiger.com, you will receive a $5 savings card for in-store purchases. Spend $100 and you will receive $10 instead.
Do you prefer white lights or coloured lights on your Christmas tree?
(Expiry: Unknown)