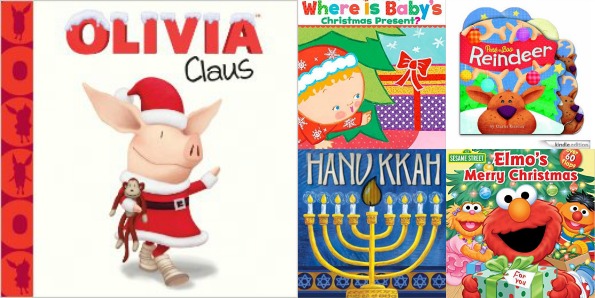 WOOHOO! That is all I can really say about this deal because it is a special kind of hot! Chapters Indigo Canada currently has the OLIVIA Claus Christmas Book on sale from $19.99 down to just $5 with free shipping. There are several other awesome Christmas book deals below, so read on!
At Amazon Canada, this book still retails for $19.99 so I am ecstatic about this deal from Chapters. This deluxe paperboard book stars the beloved Olivia in a search for her favourite stuffed monkey, Mathilda on the night before Christmas. Not only is her favourite monkey missing, but other favourite toys go missing throughout the night. I won't spoil the story, but this is a great read for children as it teaches them about the true spirit of Christmas. Now, this is not the only Christmas themed book on sale and I would be terribly negligent if I did not mention some other hot buys.
This Where Is Baby's Christmas Present book was $15.99 but is now only $5. This is a Karen Katz Lift-the-Flap Book/Lap Edition book perfect for young readers. The same book currently costs $15.99 @ Amazon Canada where there are less than ten left in stock.
Next, I must recommend the Peek-a-Boo Reindeer book that is just darling. This fun little book has die-cut windows give a peek-a-boo look at the fun on the next page. Your child will enjoy rhyming verses and die cut book shapes. Originally $6.95, this Christmas book is now on sale for $3.99. At Amazon Canada, the same book costs $7.95 for the same board book.
This Elmo's Merry Christmas: Lift-The-Flaps is also a MUST buy - and there are only three left. Originally $11.99, the book is now on sale for $5. As you guessed it, Amazon Canada still has the book for full price: $11.99.
For those who celebrate a different holiday in December, this Hanukkah: A Mini AniMotion Book is on sale from $11.99 down to $3.99. It is still $11.99 at Amazon so you are much better off picking it up at Chapters along with the free shipping promotion.
All these books are amazing deals made even more amazing by the free shipping promotion on at Chapters Indigo right now. This is certainly a deal you will not want to miss.
(Expiry: 29th October 2015)