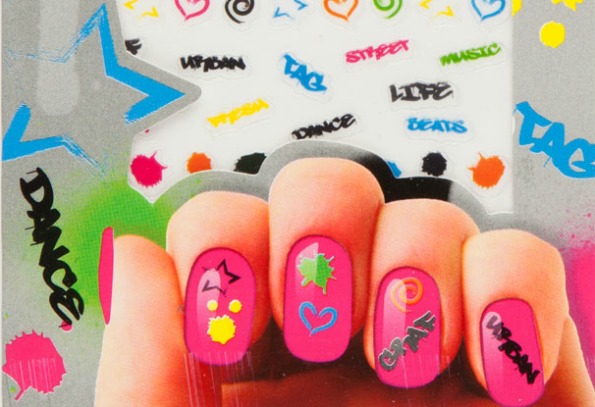 Today is the last day of free shipping with no minimum at Chapters Indigo Canada. These packages of Nail Art Stickers - Graffiti are currently on sale from $5.95 down to just $1.50 per pack. While there is a minimum purchase of three packs ($4.50), these make the perfect stocking stuffers for pre-teens and teens.
This pack comes with one sheet of nail stickers and nail gems. The theme is 'graffiti', and these stickers are a great way to add a little art to your nails. These stickers and gems are easy to use. First, paint your nails and let them dry. Then stick on the self-adhering stickers and gems on top of the nail polish for a custom look. These packs are great for any youth who can paint their nails with (or without) the help of Mom. For those less dexterous, parents can help their kids apply the nail art stickers and gems.
These sticker and nail gem packs are also fantastic for loot bags. As they are so inexpensive, you can drop one into each loot bag and then add an inexpensive bottle of nail polish. Presto: the best sleepover party your girls have had in ages. I was checking out similar packs of nail art and kept finding them for $5.50 or more. There are no other packages of nail art around this price!
It is a pain that you need to buy three packs minimum, but it is really quite practical. It will not take your child long to go through one pack so the other two packs can be backup. If you have more than one girl, you can split the packs between them. You can also give one of the packs to your kids to give to a friend for Christmas. As I also mentioned, these are pretty awesome for loot bags.
I did find these Nail Art Stickers - Halloween on sale from $5.95 down to $4.17. There is no minimum order on these nail stickers and they would also make a fabulous loot bag item.
(Expiry: 29th October 2015)