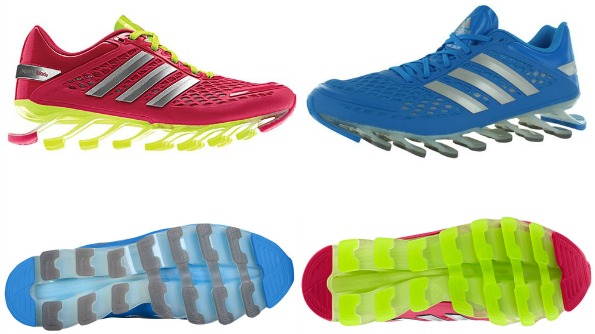 Foot Locker Canada has an intense sale on these Adidas Springblade Razor athletic shoes for kids. Originally $159.99, the shoes are on sale for just $39.99 in either blue or pink.
There are still plenty of sizes left in the pink/green combo whereas the blue colour only has a few sizes left. While these shoes say they are for boys on Foot Locker's website, they are for kids according to Adidas themselves. At this age, there is not as much of a difference between girls and boys feet so they are for both genders. Speaking of Adidas, they totally sold out of these shoes when they marked them from $160 down to $60. You are getting an even better deal at Foot Locker.
I love this deal because these shoes are 75% off! Yo! That is awesome. Children's shoes can get expensive and because children out grow their shoes so fast, many parents just do not have the money to invest in good quality shoes for their kids. If your child is very athletic and a member of any sports teams, then they need good quality footwear. These shoes are pretty cool in that they trap energy as you step down and release it on the rebound, giving your kid an extra boost.
The soles are non-marking so the occasional run through the house will not result in black marks on your floors. There is an external heel counter for extra foot support as well. Each blade that traps energy is specifically calibrated depending on the shoe size. How cool and high tech is that? One reviewer said:
I was skeptical on this purchase, but so far the shoe has performed. And my son loves them.
These are certainly performance shoes for kids at a price that will not kill your wallet. I would order them as soon as possible as I am pretty sure these will sell out quickly.
Standard flat rate shipping is $8.95 but they offer free shipping on orders of $49 or more with coupon codeIP45CP49 - so you may want to top up your cart or buy two pairs. This awesome deal on shoes will not last long.
(Expiry: unknown)