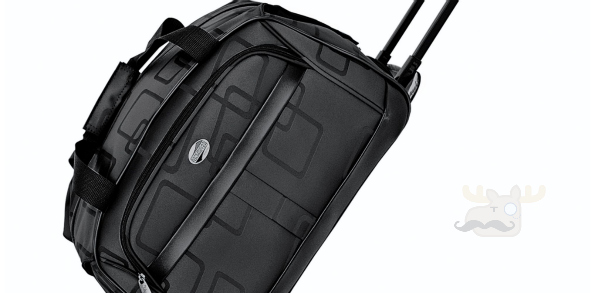 **Bump: This are back in stock - black only - and such an awesome buy!**
This American Tourister Wheeled Fashion Duffle Bag is on sale from $69.99 down to $27.99 right now. This in itself is a great deal, but you can use coupon code941612464 for an extra $10 off, thus bringing this wheeled duffle bag down to only $17.99! Sears Canada currently offers free shipping to over 1300 Sears Stores and Sears Outlet locations.
This duffle bag is perfect for a weekend away. It is perfect for the kids going off to camp, the kids going off to the grandparents, and the kids going to hockey or soccer. You can also use it as your carry-on luggage for a flight. The duffle bag measures 17" high by 11" wide and 10" deep. Thus, it fits standard airline measurements restrictions for carry-on luggage.
The duffle bag has one large inner compartment to stow everything you or your child might need. There are two in-line skate wheels for towing the luggage around and a retractable handle for pulling. While the bag only has one large inner compartment, there is an outside organizational pocket for simple things like electronics, earbuds, snack bars, and more.
When not in 'pulling mode', there are two bale handles on the top for carrying the duffle bag around. This duffle bag comes with a generous 10-year warranty. I assume the warranty is limited as they do not often cover damage done by the airline itself. The last trip I was on, the airline sheared off the zippers to the back compartments on my luggage. I was not happy as you can imagine.
This duffle bag is made of 600-denier jacquard polyester construction for durability and currently comes in two print options: black geometric or pink floral. There are a couple reviews on the website, but both were in French! Translated, one reviewer said:
Very good value ! The pink color is very discrete . Well protected , my laptop is easy to carry on the plane

I figure that at this price, you could not find better value elsewhere! In fact, this may be the cheapest wheeled duffle bag of this size that I have ever seen. The same wheeled duffle-bag is on sale for $29.99 @ Amazon.ca and on sale for $29.99 @ Canada Luggage Depot. Sears Canada's price beats both of them.
(Expiry: unknown)