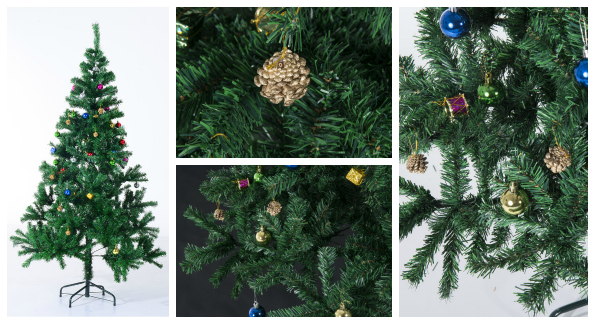 Shop.ca has some truly astounding Christmas tree deals right now and the hottest has to be this HomCom 6ft Green Christmas Tree Artificial With ornaments. Originally $149.99, this Christmas Tree with included decorations is on sale for $39 with free shipping. It is like an instant Christmas Tree - just add a few lights and you are done.
Seriously - this deal is mega hot. You receive a 6 foot Christmas tree with 420 branches and a total of 624 branch tips. I would consider this a mid-quality Christmas tree as those things are usually judged by branch tips. You also receive a metal tree stand for holding your tree up and in place. On top of that, you receive 48 decorations to decorate your tree with. The decorations are as follows:
18 decoration balls
12 golden pine cones
6 decoration boxes
6 decoration bells
6 decoration drums
It is like Christmas in a box! What a great way to bring Christmas home or send Christmas to a loved one. I was thinking that this would be a great gift for older grandparents who don't necessarily put up a tree or decorate anymore. You can just show up at their door with the tree, stand, and 48 decorations to brighten their day. If you have not had the time or the means to put up a tree this year, then consider buying this awesome Christmas tree with decorations.
Now, there are three other trees on sale as well for slightly lower discounts. If the one above sells out, hopefully you can pick up one of these other amazing deals. This 6.9ft Green Christmas Tree Artificial With Ornaments is a higher quality tree (more tips!) with more decorations. Originally $169.99, it is on sale for $49. You get 960 branch tips with 108 ornaments! I recommend getting on this deal fast as there are only five left in stock.
For smaller apartments, this 4.9ft Green Christmas Tree with ornaments is a fantastic buy. Originally $119.99, the tree with 48 ornaments is on sale for $39.
If you have enough of your own ornaments, then consider picking up the 6.9' Green Christmas Tree With Stand on sale from $139.99 down to $39.99. This one has 960 tips, so is better quality than the featured tree on this post. Both the 6.9ft Christmas trees has a better tip count if you want a thicker tree.
Pounce on this deal quickly my little Moosers as I am sure these deals will not last long.
(Expiry: unknown)