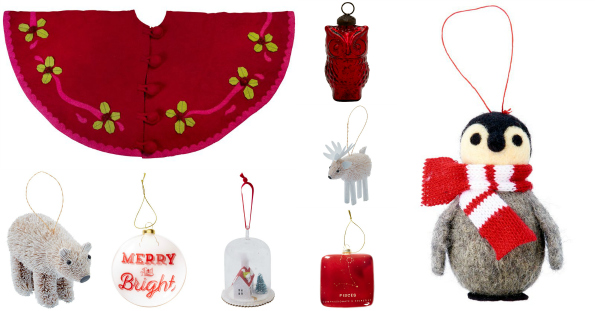 I am not sure how many of you have already put up your tree and how many of you have some sort of traditional day for putting up your tree. If your tree still needs a few accessories, then look no further than Chapters Indigo. They are offering 74% off this Berries Christmas Tree Skirt. Originally $139.50, this skirt is now on sale for $35. Furthermore, Chapters Indigo is offering up to 46% off ornaments for your Christmas tree with prices starting at just a few dollars.
First, you may be wondering why the price on that tree skirt was so high to begin with. It was so high because this is an artisan-made tree skirt that was not only hand-felted, it was also hand finished with cherry appliques. When you consider the time and the effort that went into making this tree skirt - you can understand why it cost so much originally. This 100% wool tree skirt will be a family heirloom as it is a quality tree skirt that will look wonderful and last for ages.
I really like that tree skirt because it is hand-felted and made of 100% wool. I appreciate handmade goods and while they tend to cost a bit more - I consider the price well worth it for the quality. While you save on the tree skirt, you can also save on a bunch of ornaments for the tree as well. First, these Owl Mercury Glass Ornaments are super popular with only a few left in stock in each colour. Originally $6.50, they are now $3.50 each.
These Bark Reindeer Ornaments and Bark Tree Ornaments were also $6.50 each and are now on sale for $3.50. There is one catch: you must buy them in pairs of two. That is pretty easy to do as people often want matching ornaments. Each of these bark ornaments is made from a single piece of acacia wood.
I also want to mention this adorable Burlap Acorn Ornament. Originally $6.50 and now $3.50, this little ornament has a wonderful 'back to nature' feel to it.
The Zodiac Ornaments are the type of ornaments I would tend to gift. I like the idea of buying each member of the family their own Zodiac ornament that they can put on the tree. Just in my immediate family, there are four signs of the Zodiac accounted for. Originally $12.50, these ornaments are now $7.50 each.
Receive free shipping on $25 or more.
(Expiry: unknown)