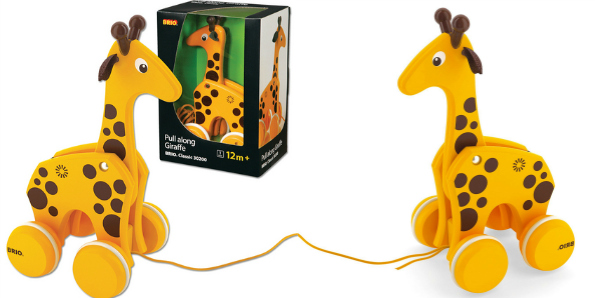 I am always on the outlook for cool toys for kids at a great price. This Schylling Pull Along Giraffe is currently on sale from $28.99 down to $7.81 for a grand total of 73% off the original price. A quick check and even the other sale Schylling Pull Along toys are double this price. Receive free shipping on orders of $25 or more or free shipping with any order for Prime members.
This deal is valid for today only so hop on over to Amazon Canada if you want to pick this cute little Giraffe up. I was trying to price compare elsewhere in Canada, but I couldn't find this exact toy. I kept on finding it in the United States for around $25 and I even found it directly at Schylling for $24.99 USD. Thus, Amazon Canada's original value is quite accurate and this is a great deal.
There really isn't much to say about this toy. It is made of solid wood for a long-lasting quality toy that can handle being handed down from older sibling to newer sibling. Your child will pull this giraffe along by the strong, and the four wheels ensure easy mobility. This pull-along has an added dimension of play: the head and neck moves when your child pulls this toy. That is a nice added element that will keep your young one entertained.
I know my colleague Brooke has one of these for her boy as she mentioned that "my almost 3 year old son still occasionally plays with his pull along giraffe and I got it on sale for $15." Well, now you can pay about half of what she did for her giraffe and get one for your own child.
All the reviews are super positive for this toy. The toy only has four and five star reviews so you know parents are quite pleased. On Amazon.com, they toy also only has four and five star reviews but the pull along giraffe costs $19.20 USD there. Make this another Christmas gift for your infant this year.
(Expiry: 13th December 2015)