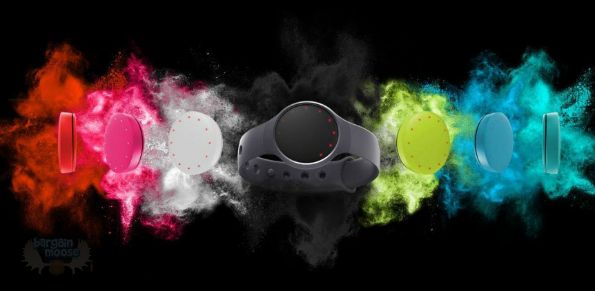 If you are getting on the fitness band wagon yet do not have a lot of money to spend on one of those fancy-shmancy fitness bands, then pick up the Misfit Flash Fitness Monitor on sale from $50 down to just $15! Shipping will only run you $6.50 for orders under $50. Orders of $50 or more are shipped free.
This is a lower budget version of the FitBit and other fitness bands you see out there. Like the other devices, this is a wearable monitor that straps to your wrist. Unlike the others, you can also clip this monitor to your clothing. The Misfit tracks your activity and sleep patterns. Your daily walking, swimming or cycling is monitored and you can see how active you are at the end of the day. I like that it also tracks your hours of sleep.
While this is not the fanciest device out there, it generally does the job. Especially at this price, you just cannot go wrong. I price compared this device elsewhere and found it for:
$39.99 @ Staples Canada
$49.99 @ The Source Canada
$49.99 @ Newegg Canada
$35.72 @ Amazon Canada
$39.99 @ Best Buy Canada
The device does have mixed reviews but you need to take into account that this is not a Fitbit, which costs 2x the original retail price. Especially at this sale price, the Misbit Fit is well worth the cost. One reviewer pointed out some additional functions:
It is great at tracking steps and calculating calories burned if you enter your gender age and weight. It allows for setting of activities such as tennis and cycling. The app allows for setting of individual goals to work towards. The sleep tracker has a built in white noise function (for iPhone)with quite a number of sound selections. Plus an alarm. You can manually track sleep start and end times or it can do it on its own.
These are some nice functions from this little device. Choose from four different colours right now: red, white, blue, or black.
Reminder: MEC is a co-op, thus a membership is necessary to buy from them. Membership is only $5 and is good for your entire lifetime. You can always check with your friends and borrow their membership if you want to order this and do not have a membership yet. Or, you could invest in your own membership knowing that just with this deal, it easily pays for itself.
(Expiry: Unknown)