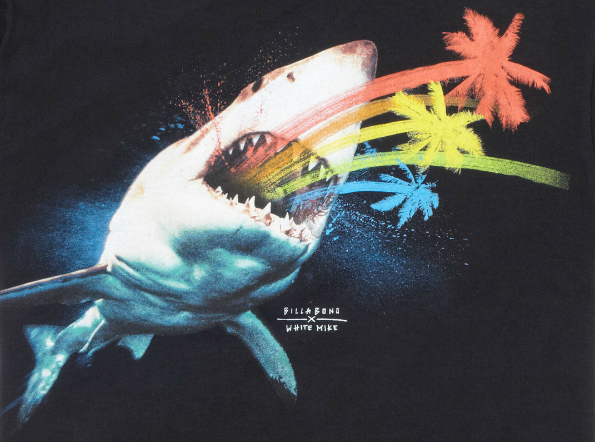 Are you looking for a cool t-shirt to give to your little monster? You know, one that he might actually wear without looking at you like you have no taste? Check out this Boys' Loud Mouth T-Shirt on sale from $20 down to just $6 at Billabong Canada. You get free shipping on any order as well.
Billabong kids' shirts are not your average child's shirt. They are made out of 100% organic cotton *woohoo* for a safe, strong, and durable fabric. They are really durable and can handle a boys' active lifestyle and still be in good enough condition to hand down to a little brother. 
The graphic is super awesome, and is a merging of photography by legendary lens man White Mike and a splash of art. Sharks do not usually have lights shooting out of their mouth like that. ;)
 The best part of this deal is the price (of course) and the sizing! This t-shirt is currently available in sizes small, medium, large, and extra-large. Essentially, if you have kid then one of these sizes should fit. You don't often find deals like this where all sizes are in stock.
I also wanted to mention another t-shirt while I am at it. The Boys' Brain Wash T-Shirt is on sale from $16 down to $4.80. Only sizes large and extra-large are still available. This t-shirt has a funky graphic on the front: a skull with a coconut skull cap and a straw coming out of it. Wicked. Made of 50% recycled polyester and 50% organic cotton, this shirt is as good for the environment as it is good for your child's skin. The shirt comes in blue and navy.
I am not sure if organic cotton is important to you when buying children's clothing, but I am a big fan of organic. Cotton is heavily covered in pesticides to produce a higher crop yield. Yet, those chemicals stay in the cotton and, thus, in our clothing. Organic cotton is far better for your skin and for your child's health.
(Expiry: unknown)