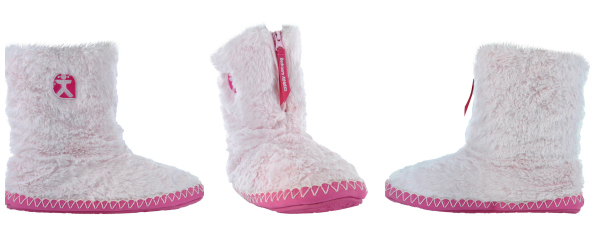 I am ALL about warm footwear come winter. My floor is above a car port and I swear, they didn't use any insulation. This sweet pair of Monroe - Classic Faux Fur Slipper Boots for women is on sale from $50 down to just $14.88 per pair. The boot slippers come in sizes small, medium, and large with all sizes currently in stock.
Get warm and cosy in these comfortable boot slippers from Bedroom Athletics. The boots feature a canvas/fabric upper that is completely covered in faux fur. The rubber outsole gives you a bit of traction and allows you to go outside in your slipper boots without ruining them. There is a cushioned insole for ultimate relaxation and comfort. 
The faux fur boots come in three sizes, which correspond (roughly) to the following US shoe sizes:
Small: 6 to 7
Medium: 8 to 9
Large: 10 to 11
I usually wear a size 7.5 to 8, so I would probably stick with a size medium in these boot slippers. The size small might work really well for teenage and pre-teen girls.
I could not find these lovely little slippers elsewhere in Canada, but theretailer sells them for $45 per pair and you can get them at ASOS (UK) for roughly $45 as well. I could not find them on sale anywhere besides Town Shoes, so I figured this was a stellar little deal.
If you want a different style, the Bedroom Athletics Knit Button Slip On is on sale from $55 down to $16.38 as well. This sale price is only for the beige canvas colourway, the other colour is about another $10 on top of that. Like the faux fur slipper boots, these come in small, medium, and large as well.
Shipping Options
If you live near a Town Shoes location, then you can simply get free in-store pickup. Orders of $25 or more qualify for free shipping if you become a Shoe Lovers Rewards Member (free). If you do not want to join, then shipping is free on $70. If those options do not appeal to you, then shipping is a flat $8 rate.
I recommend shopping the rest of the clearance sale at Town Shoes to hit that $35 minimum with the rewards membership. This Adrianna Clutch Black would make a great top-up. Originally $75, this bag is now just $22.38.
(Expiry: unknown)