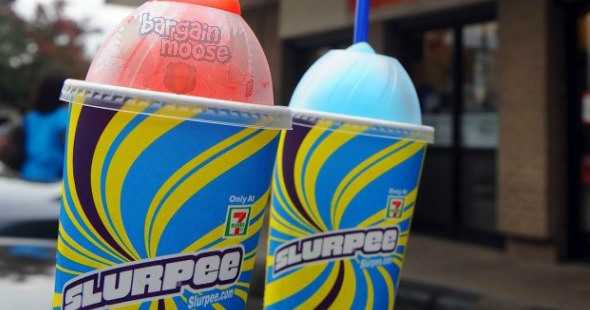 7- Eleven happens to share my birthday, and to celebrate they have a week stocked full of freebies. Be sure to download the 7-Eleven mobile app to reap the benefits, especially if you live close enough to walk to get some daily exercise while enjoying the freebies.
So all you need to do is download the 7-Eleven mobile app to your smartphone, and find your local 7-Eleven store. Then you can redeem the freebie of the day for the entire week. Just redeem your freebie each day once you have reached the store, since once you click "redeem" you will only have 15 minutes to claim the offer.
So here is what this week full of freebies at 7-Eleven Canada looks like:
July 11th: Free small Birthday Slurpee
July 12th: Free Big Gulp
July 13th: Free Cheddar Smokie
July 14th: Free 7-Select Water
July 15th: Free Chicken Kebob
July 16th: Free 7-Select soft drink
July 17th: Free medium Slurpee
Too bad, no free Reese Peanut Butter cups this time - but the other freebies still sound good. You really can't complain about free things for an entire week. I just started that 7 Day Cabbage Diet that has been going viral around Facebook or I would be in 7-Eleven daily myself to get some free stuff. For one, today is my birthday so a free small Birthday Slurpee would be perfect.
Don't delete the app when the week is over though. The 7-Eleven Canada app will provide you with freebies almost every Friday, as well as discounts on popular items. You will often find BOGO deals too. I know I definitely check my 7-Eleven app every Friday morning to see what freebie is to be had. The freebies range from water to slurpees to free chocolate. So, happy birthday 7-Eleven and thanks for the freebies to celebrate!
What freebies will you snag this week at 7-Eleven, Moosers?
(Expiry: 17th July 2015)