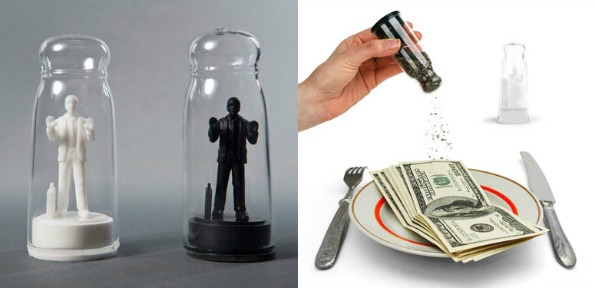 I am over the flipping moon with this AWESOME salt and pepper shaker deal. These Kikkerland Drowning In Debt Salt and Pepper Shakers were $19.99 but are now only $6 for the pair. The salt shaker has a man in white and the pepper shaker has a man in black ready to drown in your spices. Use our exclusive coupon codemoosesp just for these shakers to receive free shipping!
These shakers are SO COOL! The two workers inside have their hands posed to surrender to your salt and pepper that is about to overtake them. Each is dressed in a business suit with a briefcase beside them on the floor. Whether through debt or unemployment, these little salt and pepper shakers represent how man can be overwhelmed to the point of being buried by the economy (an economy of spices in their instance).
These are fantastic shakers at a great price. I price compared them with Bed, Bath & beyond Canada where they currently retail for $26.99! Kirkland themselves sell this set of shakers for $25 USD. Given that the price ANYWHERE else is so much higher than this sale price at 123inkcartridges, I am ecstatic to share this deal with you. Limited quantities are left, so I would get on this deal quickly!
I totally need a new salt shaker, though I use a grinder for pepper. I know a lot of people like to grind their pepper, but salt and pepper shakers are often sold as sets. I recommend using the pepper shaker for another spice you often add to your food. I think that I will pick up a pair and put curry in the pepper shaker. First off, the orangish-red hue of the curry will look awesome around the black drowning man. Secondly, I use curry as an accent spice in a lot of my cooking. I might also put my lemon pepper seasoning in it. Either way, I am so buying a set of these!
(Expiry: 31st October 2015 - or while quantities last)