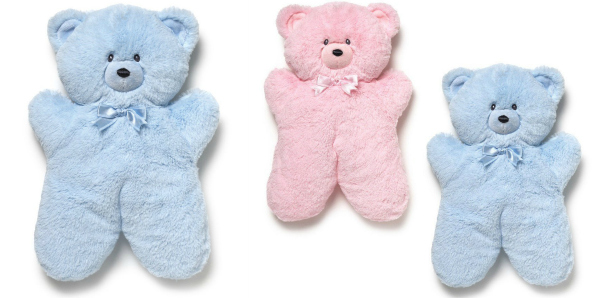 I am a big fan of Gund because they make some of the most wonderful plush animals in the WORLD. Honestly, these plush are well made, adorable, and so soft! This Gund Oliver Blue Flat Teddy Bear was $24 and is now only $11.98! I am pretty stoked because I have been looking for a flat teddy bear to tote around when I travel and this bear is just the thing.

This adorable flat teddy bear named Oliver is a plush blue bear made 'flat'. Do not worry, he still has plenty of stuffing to make him soft and huggable, but now this bear multitasks as a pillow and cushion. The 13" bear will be the perfect travel companion as he packs up flat into suitcases and is a real space saver. Also, at 13" this is actually a substantially large bear that will delight any kid. I am thinking Christmas gifts my dear Moosers! This adorable pair would make a fantastic gift for Christmas. It is also a bit different from your children's usual plush because of that flat design. I think it is fantastic and I am sure kids will too as they think of multiple uses for their new Gund bear.
I could not find this bear elsewhere in Canada but I did find it plenty of places in the USA - generally around the $20 USD mark. I have NO doubt this is an awesome price. Only the blue bear is on sale for this price. If you want the Pink Flat Tilley Bear, she currently is on sale from $24 down to $16. Gund is known for their quality as they have been making stuffed animals since 1898 - that is over 100 years people! <3
I love the flat design for traveling as I could stick him in my backpack, right up against my laptop for extra padding, and then pull him out when I need a cuddle. Hey, I am a big kid too! The bear I was eyeing up is the same size, but made of sheepskin. The price tag reflects that as well... the bear I wanted costs $44. I just saved myself some money by picking up this flat bear instead.
Receive free shipping on orders of $25 or free shipping on anything with your Prime account.
(Expiry: Unknown)