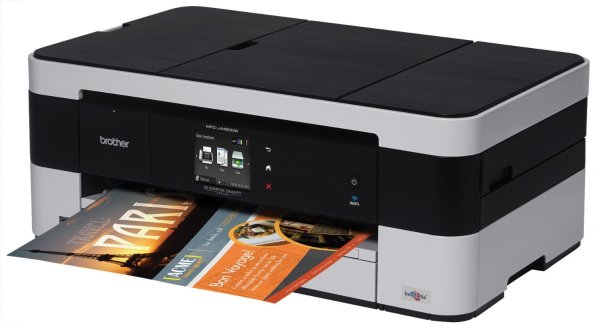 Printers come on sale all the time but it's very hard to tell if you're getting a good deal since they all have different features. There's no question that you're getting a deal in this case : Amazon is offering a 68% off the Brother Business Wireless Inklet All-in-One Printer. It was $186.99 and is reduced to $59.99. That's a nice little rebate of $127.00. Printers often come on sale but this one is loaded with features and has good reviews on Amazon. Shipping is free on this item since it is over $25.
After further reviewing the product, I was very impressed by all the features on this little machine. First off, mobile wireless printing is available via : AirPrint, Google Cloud Print, Brother iPrint&iScan and Wi-Fi direct. The other feature that caught my eye is the 2.7 touch screen display, it gives the printer a very sleek look and makes it easier to operate. I often find myself having to press ten buttons to finally find the button that prints something, the touch screen helps with that.
I also like that Brother offers a side-by-side comparison of their Business printer collection. That way you know exactly what you are paying for and what features are in which printer. The business line of printer has 6 different models, with more feature available with the more high end models. This one is the second one in the line, with many functions that are also featured in the more expensive models.
For a quick price comparison, this is what this items sells for at other Canadian stores :
$179.99 @ Bestbuy.ca
$189.99 @ Thesource.ca
The price is right guys. If you're in the market to buy a printer, this is an affordable item that doesn't compromise on features. It  would be ideal for a student or someone with a small home office. This item is also a number one best seller on Amazon.ca with raving reviews, which leads me to think customers were highly satisfied with this product. That's no surprise since this printer is affordable without cutting corners. This printer ships straight from Amazon.ca and it qualifies for Free Super Saver shipping.