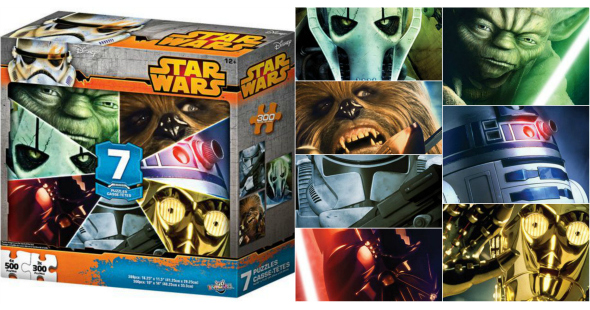 Check out this great deal from Lowe's! If you're searching for ways to keep the kids occupied over the holiday break (and beyond) that doesn't involve them sitting in front of the TV or video game console, this would be a great alternative. Puzzles can also be wonderful, relaxing activities for adults. Not to mention, it's Star Wars. That's a win right there. Although this set isn't based strictly on characters from the new movie, The Force Awakens, several of the characters featured do appear. So, this set might be perfect for a true fan or collector that loves the older films, as well. Regularly $16.99, Lowe's has this Star Wars 7-in-1 puzzle set on clearance for only $6.80 -- a 60% savings! Lowes.ca also offers a few different options for getting your new toy to you, including pick-up.
Each puzzle in this set is a beautiful, colourful graphic of a different iconic character from the first six films in the Star Wars franchise. Pictured are: Chewbacca, R2-D2, C3PO, Yoda, a Stormtrooper, Darth Vader and General Grievous. (My apologies in advance to the fans if my research is incorrect!)
These aren't tiny, either. There are three 300-piece puzzles that measure 16.25" x 11.5 once assembled; and four 500-piece puzzles that measure 19" x 14" once complete! The 2900 total pieces will provide hours of entertainment. Puzzles have long been shown to develop and maintain spacial and pattern recognition skills and manual dexterity. They're a relaxing way of putting your brain to use!
I was able to find this same great set of puzzles at Walmart.ca for $19.93! Pay almost 66% less by getting it at Lowe's.
As mentioned, Lowe's has a few options to choose from for obtaining your purchase while checking out. One option would be to purchase online and pick-up at your local store. Be sure to use the 'Check Store Availability' option first. If this isn't an option, then you can also pay for parcel shipping. To my address in Ontario, my shipping was listed at $6.49, making my order total $13.29. While this does negate some of the discount, it's still cheaper than purchasing the item at Walmart. Lowes.ca does offer free shipping on orders over $49 so if you are in need of something else, that would be the ideal way to go.
This Star Wars puzzle set is marked as clearance stock so the price will be effective through January 31 or until they're sold out. If you are, or know, a Star Wars "fanboy", grab one (or more!) of these while you can!
(Expires: 31 January 2016)