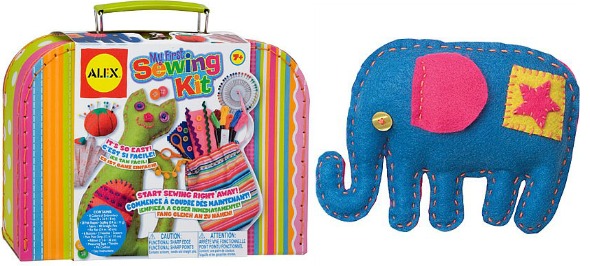 Do you often find that your little girl wants to help you while you are sewing or repairing clothing? Sewing is a handy skill to teach our little ones, and teaching them just got way easier thanks to this sale at Amazon Canada. Right now Amazon.ca has the Alex Toys My First Sewing Kit on for 60% off, which means you will pay just $14.96. Amazon Prime members will get free shipping, otherwise you will need to spend $25 to have your shipping included.
The Alex Toys My First Sewing Kit is a great crafting activity kit for little ones between the ages of 7 and 12. You can either save it as a Christmas gift or use it as something fun to do when the weather is too cold to head outdoors. Either way, this is the best price you're going to find on this Alex Toys My First Sewing Kit. So snag it now for just $14.96 before quantities run out.
This is definitely the lowest price around for this nifty little learning set. Take a look at what other Canadian retailers are selling this My First Sewing Kit for:
$19.95 @ Chapters.Indigo.ca
$46.39 @ Staples.ca
$26.37 @ ToysRUs.ca
The Alex Toys My First Sewing Kit is perfect for travel or to even keep at home for a rainy day. It comes with 28 felt shapes, embroidery floss, stuffing, fabric, ric rac, scissors, measuring tape, pins, needles, thimble, pin cushion, buttons and pom pom strip. It is recommended for children 7-12 but I would definitely still supervise even if they are older. After all, sewing does involve sharp needles and pins. These projects are easy and fun and will teach your little one how to sew in no time. She will be mending her brother's stuffed animals and creating her own master pieces to give as gifts in the blink of an eye. Sets like this make me wish that I had a little girl. I know my son wouldn't be interested at all, but sewing is something I really enjoy so I would love to share that hobby with my little one.
This item is shipped and sold by Amazon.ca, so you either need to have Amazon Prime to get free shipping or you will need to spend $25 to get free shipping. That choice is all yours.
(Expiry: Unknown)